OVERVIEW
Rated 'Good' by CQC in March 2022!
Treating your family members like our own.
Purpose built in 1995 and modernized in 2018, Abbey court Nursing and Care home offers a safe, homely and unconstrained environment for residents to settle comfortably in. Proud to be rated 'Good' by CQC in 2022, Abbey court supports residents and their families with all manner of physical, mental and lifestyle challenges.
The needs of every individual are met by competent staff offering person – centred care. Family members can be assured their loved ones are being cared for by highly qualified registered nurses, care assistants and various support staff, some of which have been there for over 20 years.
A warm welcoming environment and an enthusiastic activity programme which includes weekly visits from the hairdresser and gentle armchair exercise sessions with local gym trainers brings daily delight to the residents in this true home away from home.
Abbey Courts 'open door' policy gives families reassurance and freedom to visit their loved ones when best suits them. At Abbey Court the door is always open, the kettle is always on and there's always a fresh biscuit in the tin!
Types of Care
Nursing
Dementia
Advanced Dementia
Residential
Respite Care
Day Care
Facilities
Bedrooms: Single & Shared – Mostly En suite
Pet friendly
Lift
Wheelchair access
Gardens
Phone & Television points
Internet access
Therapists Provided: Chiropodist, Hairdresser, Dietitian, audiologist, optician, and Physiotherapist
Church Services: Different Religious Leaders can be made available
LOCATION
Abbey Court is located in Buxton Road just off Novi Lane, Leek, Staffordshire.
Leek is a market town and civil parish in the county of Staffordshire, England, on the River Churnet. It is situated about 10 miles north east of Stoke-on-Trent. It is an ancient borough and was granted its royal charter in 1214. It is the administrative centre for the Staffordshire Moorlands District Council.
Abbey Court is proud to be an 'I CARE' home!
Not just an 'I CARE' home but also home to an 'I CARE AMBASSADOR'.
This is part of Staffordshire's ground breaking initiative aimed at educating and inspiring folks across the county to consider careers and vocations in health and social care. This involves facilitating talks and workshops at schools and colleges, welcoming students and interested people of all ages to our home, managing work placements, and generally leading the way in raising awareness of social care as fulfilling and life changing vocation… Abbey was recently invited to represent social care in Staffordshire at a young person's career conference, presenting workshops that encouraged them to look at Abbey Court and the social care sector, and the opportunities they present, in a very different light… This builds further on existing wonderful partnerships with Buxton and Leek College and the University of Derby…and cements Abbey Court's reputation and recognition as one of Staffordshire's leading care and nursing homes…
COMPLIMENTS & THANK YOU CARDS
"Thank you so much for all the wonderful care that you gave. He was very happy and settled at Abbey Court. He loved joining in with all the activities and outing and leading his exercise class! We are very grateful to all. Abbey Court is a special place and we were so glad that we found it. We are looking forward to seeing the "outstanding" banner outside because you definitely deserve it!"

Sally, Debbie & Anne. (Mervyn's Family)

March 2020
"I would like to take this opportunity to give my heartfelt thanks for the outstanding care, compassion,consideration, and welcome you have shown to Derek and all of his family and many visitors since he joined you. The Abbey family as a whole have always treated Derek with Kindness and care, preserving his dignity and helping him & us to come to terms with his situation. "

Christine, Rachel and family

April 2020
"We wanted to say a big thank you to all you wonderful staff at Abbey Court for being so kind to dad, caring and patient, Not only the nurses and carers, who were exemplary, but David and Lyn on reception, the Social Team and all the lovely cleaning team and probably many more whom we never actually saw e.g. Laundry kitchen etc, working behind the scenes making everything work."

Jayne, Jeff, Nick & Susan

March 2020
"We would all like to thank you for the wonderful care that you gave my mother, and the gentle and sympathetic way she was treated in her last days. My eldest daughter, Stella, who was with her grandmother had nothing but praise for your staff and gratitude for the support that she personally was given. When next in your part of the world, we shall drop in and say goodbye properly! I hope all continues to go well for you, your staff and your residents. Please pass on our thanks and good wishes to your team from us as a family. "

David and Sarah Griffiths

May 2020
"I know that Margaret could not have received better care from all your staff. We both thank you from the bottom of our hearts for your kindness."

Brian, resident's husband

June 2020
"To all staff at Abbey Court,

Just a card to say many thanks for arranging for me and Margaret to come yesterday and visit my sister. It was the first time we've seen her since March and we were so pleased to see her looking comfortable and settled. You have obviously been looking after her extremely well, this is so much appreciated by me and my sisters.
we appreicate how much hard work you are all having to do in the light of the current pandemic.

Thank you so much for caring for our mother so nicely!"

Wendy's Sisters

October 2020
"Just to say thank you once again for a very informative meeting, you and your team are doing an amazing job during these difficult times.

My mother could not be in a better care home and we are very thankful for that."

John (Son-in-law)

November 2020
"I and my husband Brian would like to say a very big 'Thank you' to Richard for his very enlightening Zoom meeting tonight. Richard is clearly very proud of all of his Staff and rightly so. We, as relatives owe each and every one of you an enormous debt of gratitude for caring for the people we love in such a wonderful way. My Mum, Alma Johnson speaks very highly of you all every week when she has a video link with us. Her usual words when I ask if everything is alright are, 'Duck, I can't fault any of them here.' Christmas plans are going ahead nicely for everyone there and I'm sure there will be lots of enjoyment and we fully understand and support plans for keeping Christmas Day as a 'No visitors' day. It would have been very difficult to make alternative arrangements. Once again, thank you all so much."

Pauline and Brian

November 2020
Well we did it , I know that you and your team must have played a huge part ,as for me the lioness came out and I kept remembering your advice re how important it is to use the right terminology when arguing the case. I wanted to thank you late yesterday but as you can imagine it was a very emotional time. I know Dad is in the right place , the care will be tailored for him. I hope at sometime in the future I can thank you in person and your team.

Maggie (Family Member)

Mar 2021
I would be most grateful if you could express to the staff as they really are a credit to you and Knights Care and as they say Richard to be a good team you have to have a good Manager and you're one in a million.

Sandra Bradbury

September 2021
"Hope you are well just wanted to say a big thank you for supporting with the Step into Work Programme, I have spoken to the students today and they absolutely loved what you did and really enjoyed it. Your help as every is very much appreciated."

Redeployment and Project Support Officer

November 2020 - Staffordshire and Stoke on Trent STP
"Just to say thank you for last night's informative and very reassuring Zoom meeting. It's extremely impressive to hear just how much you and your staff are doing to keep everyone looked after, safe and happy during these awful times. Please pass on our continual gratitude to all the staff for everything they do."

Jane

November 2020
Throughout the pandemic, local authorities have continued to support residents' families and audit and review our services – here is some of their '2020 vision'!
"…score Abbey Court 10 out of 10 for being fantastic…Abbey Court are brilliant, they go above and beyond…staff take and spend time with Mum…the home has been excellent, the staff have done a really good job…provide really good social activities…wouldn't want Mum to be anywhere else…Abbey Court – 5 stars!"
It's not just COVID that's infectious – our passion for care is too!

Staffordshire County Council reviews

December 2020
Dear Richard and all your lovely team at abbey court. What a family you all make! I don't know what we and lots of other people would have done with out you all. Its so sad that COVID prevented us from visiting Mum and laughing with her and your staff as we did so often. Thank you seems inadequate but its all we can say!

Pauline, Brian and Family

April 2021
To All the Staff at Abbey Court you all went that extra mile for my husband Terry. Its really appreciated. Many thanks again.

Joan (Wife of Residnet)

Mar 2021
Would you be kind enough to pass this message on to Richard, David and of course I would like Julia to know I have passed on my thanks. These meetings are not always very productive nowadays, due to Mum's fast decline in health and can be very difficult to deal with emotionally at times. Yesterday, out of her busy schedule, Julia was very kind and found the time to stay with Mum and I. This made an enormous difference to Mum and I feel sure she enjoyed our time together as much as I did. I do appreciate we cannot expect this 1-1 on a regular basis, everyone at Abbey Court is so busy, doing such an amazing job and we have such a lot to thank you all for, but I wanted you to know how much Brian and I appreciated Julia's kindness and help.

Pauline (Family Member)

Feb2021
I have just returned home from spending a lovely night and the entertainment provided.
I sat in the lounge and watched in amazement at just what lengths your staff go to in making sure everyone has a nice time . Could you please pass on my thanks to David, Julia and indeed all of the staff.

Maggie (Daughter of Resident)

July 2021
GALLERY
Caring for you, Caring about you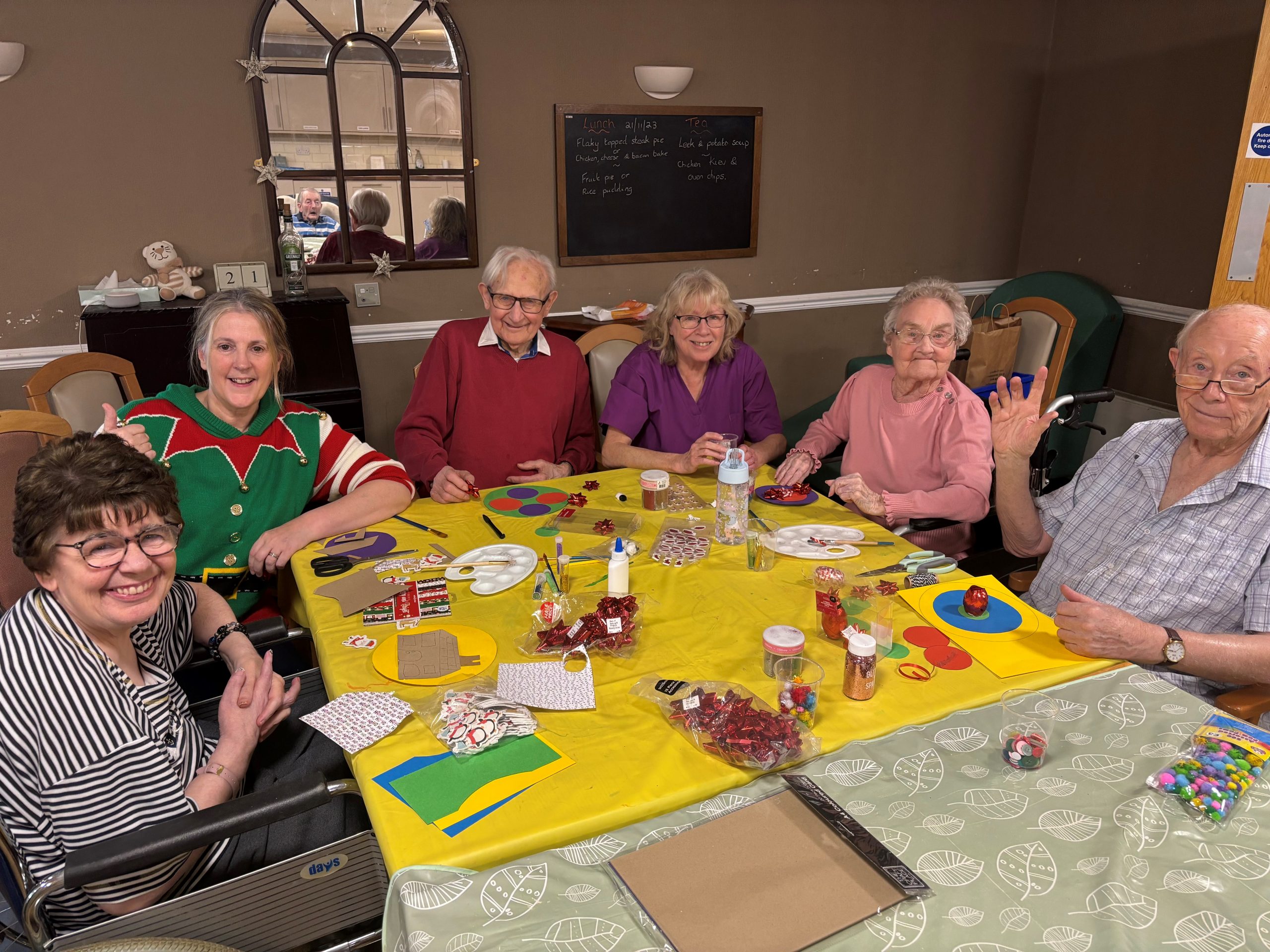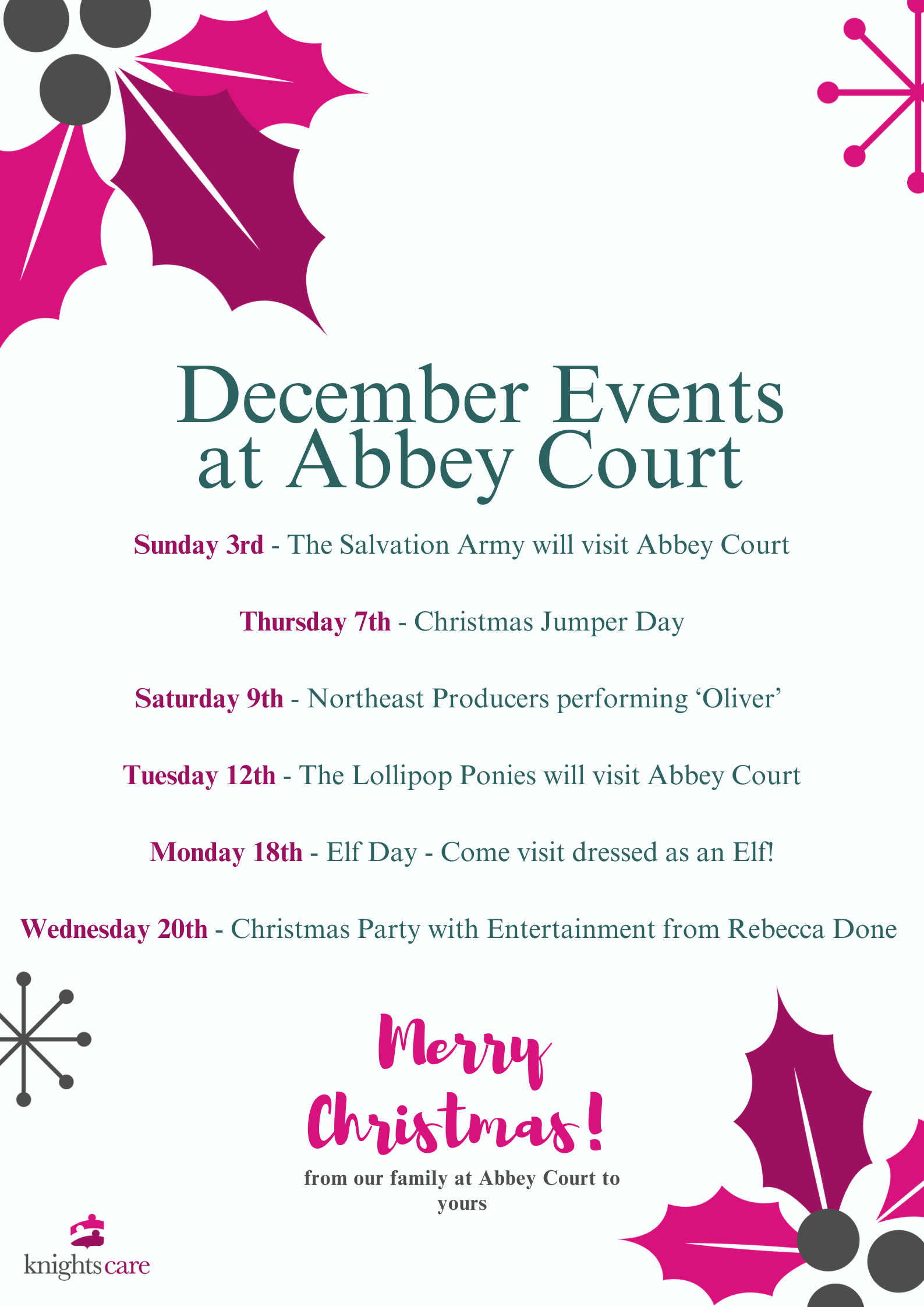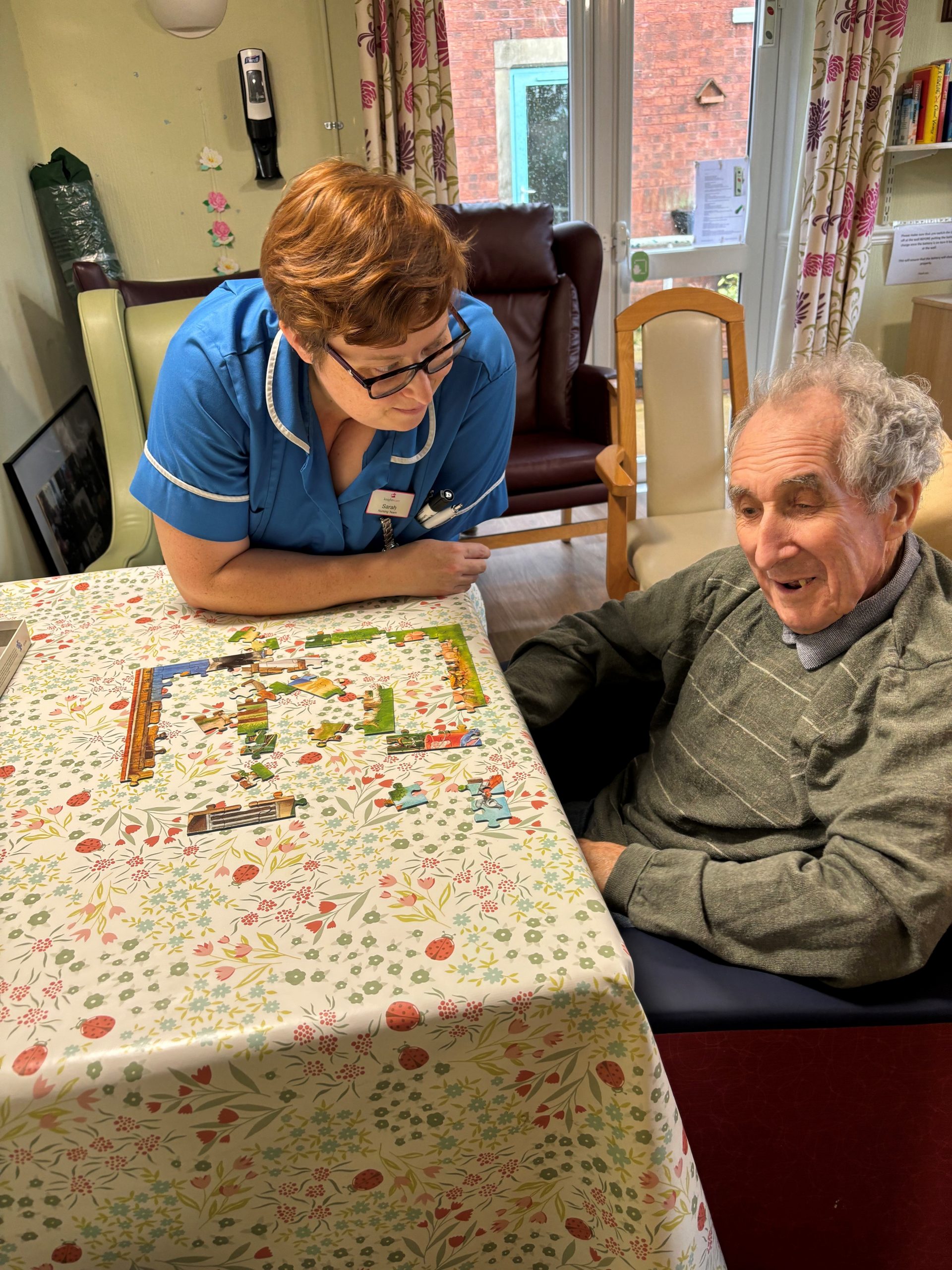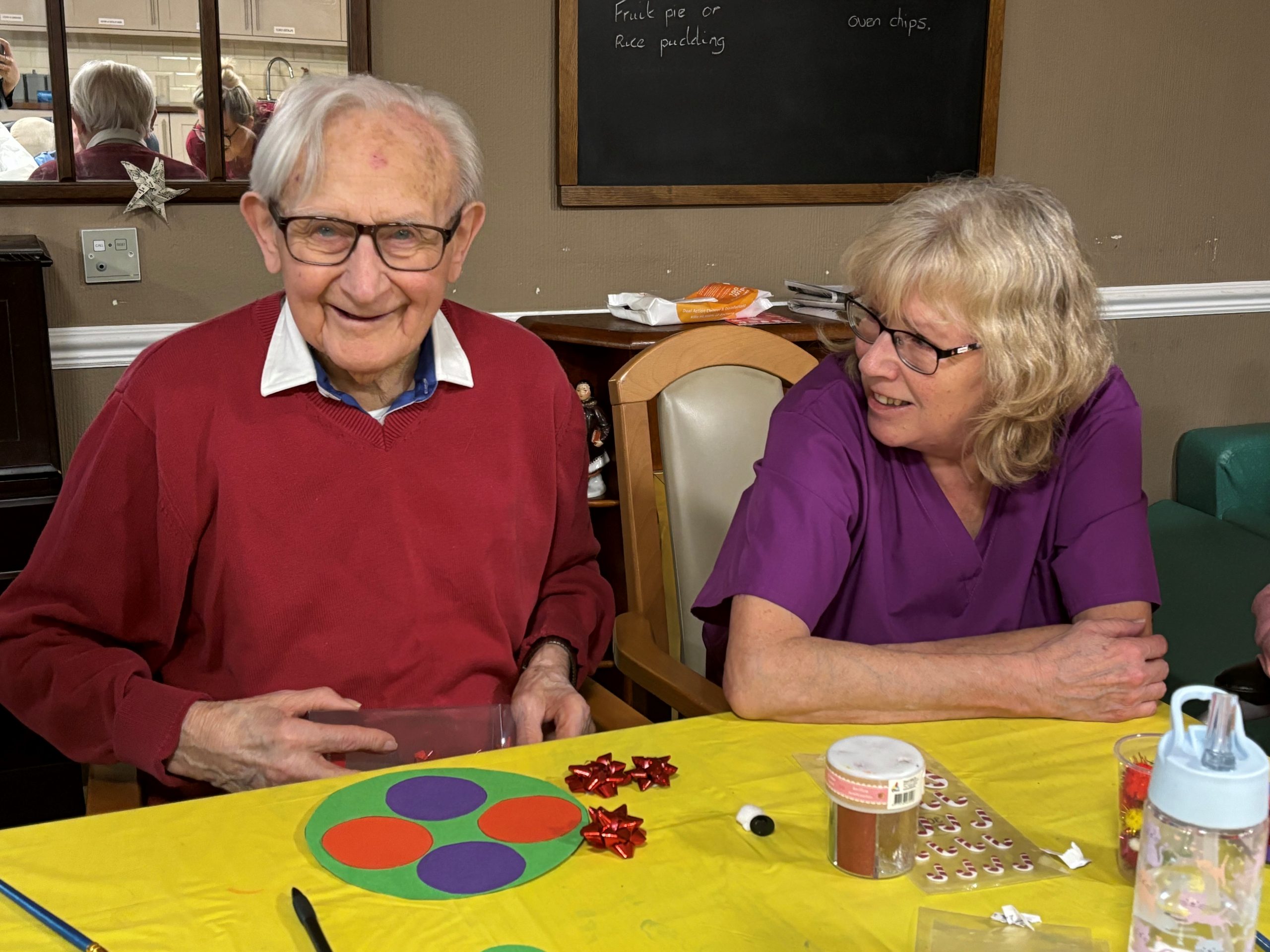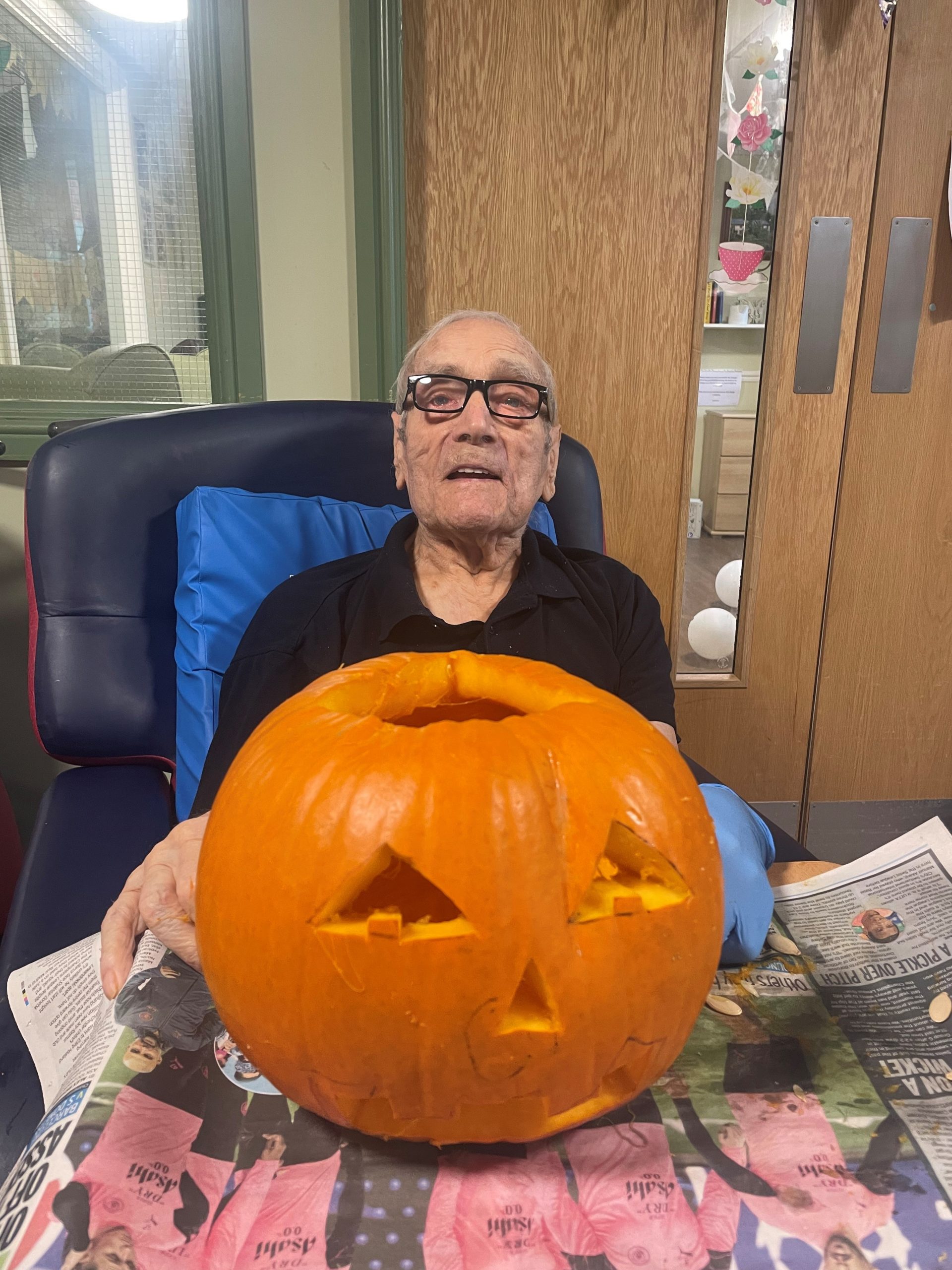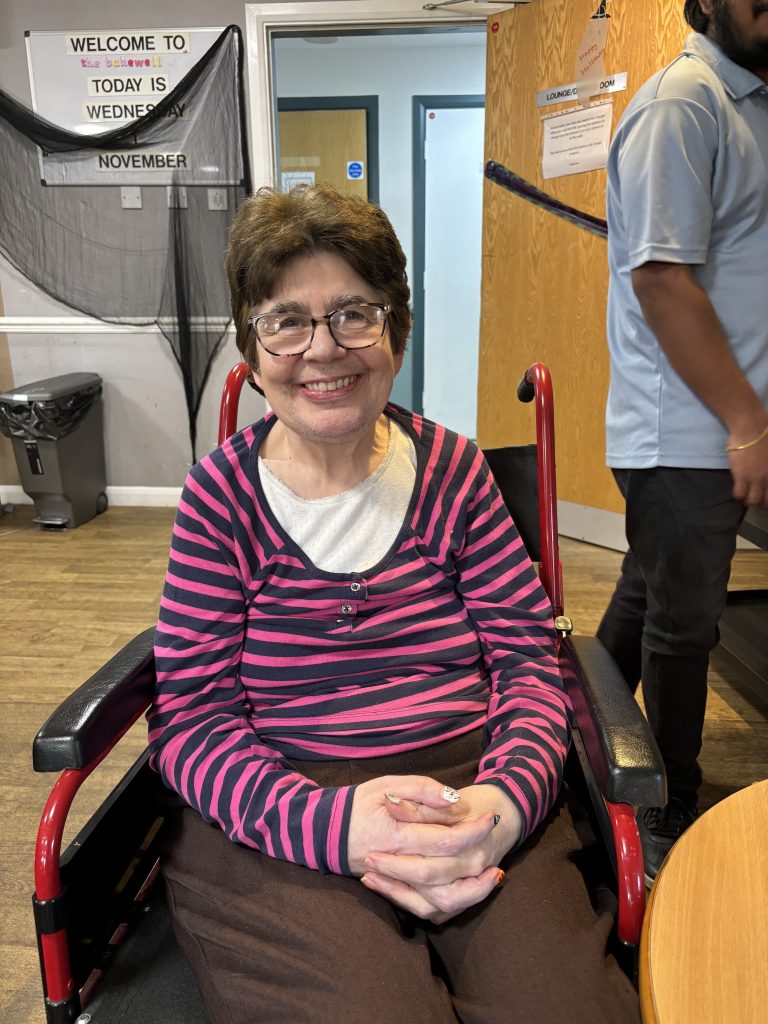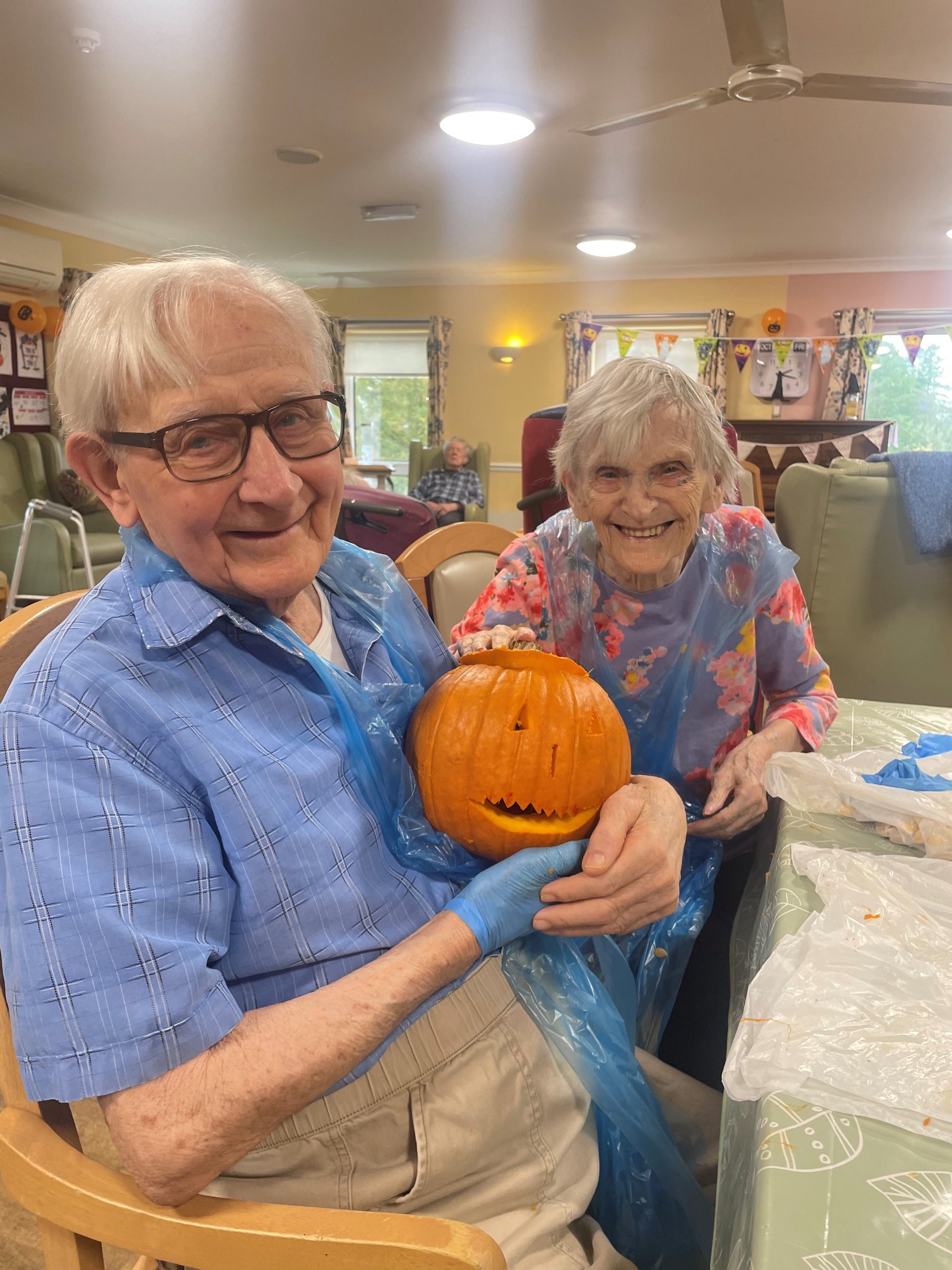 HIGHLIGHTS
Some of our highlights here at Abbey Court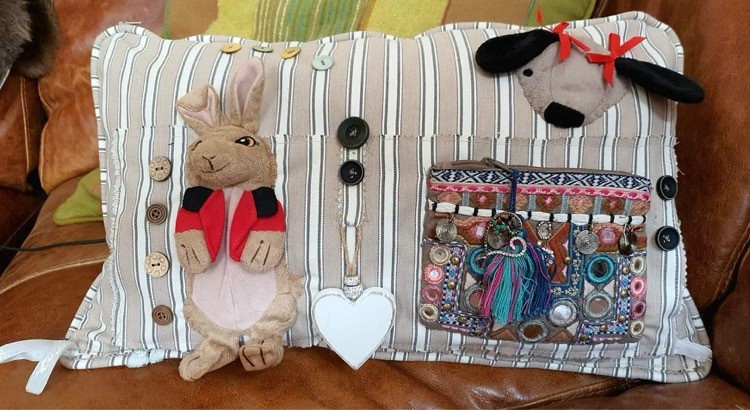 The Residents and Staff at Abbey Court Care Home would like to thank Jayne Houghton for making this fidget cushion for the residents.
This will help with the Care Homes focus on sensory.
We are sure the residents will love this.