LADYSMITH
Voted Top 20 Care home on Carehome.co.uk
MILESTONES
Some of our achievements at Ladysmith!
Satisfaction on audits on QCS.co.uk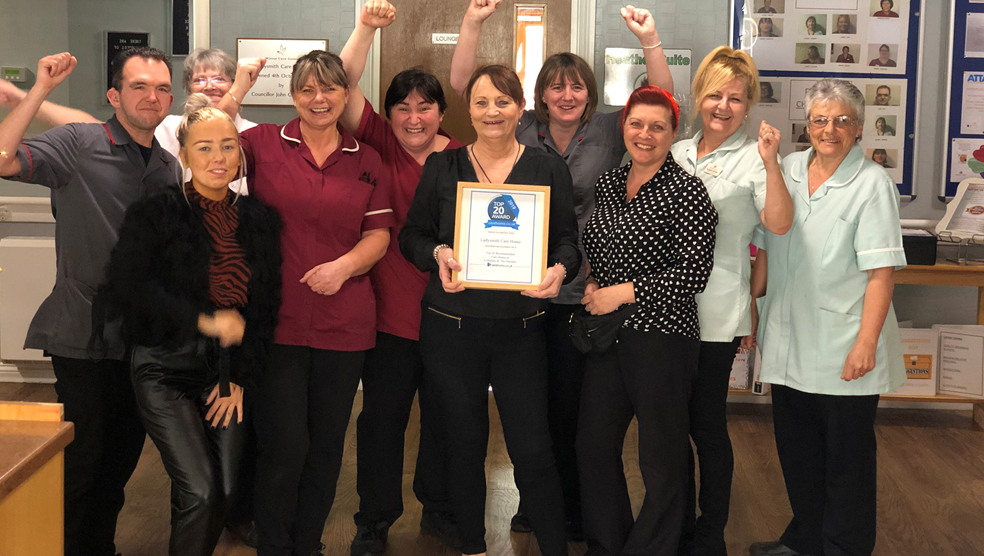 Top 20 Care Home on carehome.co.uk
For 3 years running in the tissue viability, traffic light model with 'Focus adult social care'!
For 2 years running, we have achieved 100% in Infection Control
For 2 years running, we have achieved 100% in Essential Steps
OVERVIEW
Rated 'Good' by CQC in October 2018!
A purpose built 90 bed care facility, which provides residential and dementia care, we also provide respite care which can provide much needed relief for those caring for a family member at home.
Residents enjoy 24-hour care from the friendly and experienced staff who strive to meet the needs and wishes of every individual in a person-centred manner. Everyone benefits from state-of-the-art facilities, which are high quality and based on the latest research into care for elderly people to offer a warm and inviting place to live at an affordable price.
To ensure our home is as welcoming as possible, we allow the large open social area on the ground floor to be used as an opportunity for social gatherings, in house activities, live music and entertainment. The seating is arranged in a manner which encourages interaction, whilst maintaining opportunity for privacy. We have a variety of smaller lounges on each floor giving the building a homely feel, where small functions, quiet time and small group activities can be undertaken. Our wider corridors allow wheelchair and walking frame users to get around easily. The four dining areas focus on nutrition, another prospect for socialisation as residents and visitors can access drinks and light snacks from the kitchenettes that are situated in each dining area.
Ladysmith Care Home aims to provide high-standard accommodation and care for single occupancy and are decorated to the highest standards, with vibrant, plush fabrics and soft carpets or wood look flooring, offering an aesthetically pleasing and above all comfortable environment.
To further encourage socialisation, daily activities, weekly exercise, Thai Chi classes, trips, pet therapy and hairdressing will be available to all residents. Everything is organised and coordinated by two therapists, employed specifically to ensure residents are happy, entertained and as active and stimulated as possible. The company provides a generous budget for the provision of social activities in addition to the home's own fund raising to ensure the highest quality of life is lived by each service user.
Facilities
Bedrooms: Single – All En suite, with Fridges & TVs

Transportation: Home has its own Mini Bus

Therapists Provided: Chiropodist, Hairdresser, Dietitian, audiologist, optician, and Physiotherapist

Church Services: Different Religious Leaders can be made available
Types of Care
Residential

Respite Care

Day Care

Transitional
Dementia
Mental Health
Tom Hussy found inspiration in sharing the experience of a WWII veteran… Despite having returned from 'the front' many years previously, he still lived every day in that earlier age, and in his world, had only just come home… That was the man he saw.
At Knights Care, we empower people to celebrate their memories, to cherish their history, to embrace their experiences. We value the chance to listen, learn, and to share their journey with them, wherever that might lead… We strive to enable them to continue that journey, safely, proudly.  Doctors or dancers, barmen or barbers, vets or veterans – we respect every individual as just that. They follow, we lead.
COMPLIMENTS
We would like to thank everyone for looking after our dad so well. We appreciate all you did for him. The care & kindness shown in all you did for him did not go unnoticed by us. To the day & night carers, office staff, laundry, kitchen, cleaners & everyone that helped provide the excellent service he received – we thank you all. It was nice to see so many of you at the home on the day of his funeral, we were moved to know so many of you cared about him. It was so nice to have you join us and have a chat afterwards. All of you always made us feel welcome on our visits to dad and we were always felt he was comfortable and safe. Dad was so special to us & it is nice to know that a little bit of his magic touched you too! Our thanks and best wishes to you all and we hope Ladysmith continues to achieve such high standards."

Brenda

October 2019
"To All the lovely staff at the Ladysmith road care home. I just wanted to thank you all for looking after my mum Madge in room, so very well. She has been with you a couple of times now for respite care both times for a few weeks she has received such good care and attention from everyone there and has been happy with you all. Its such a comfort knowing that when she can't be at home she is being so well looked after here and is happy, well and content knowing she is safe, and help is always at hand when needed. Your staff are so welcoming and caring it's a pleasure to visit visit her and talk to her. I know mum will be coming back her again for periods of respite care on a more regular basis. So, I look forward to seeing you all then. Much love and special wishes are being sent your way "

Carol

July 2019
LOCATION
Ladysmith is located on Patrick street with Access of Ladysmtih Road in Grimsby, Lincolnshire.
Grimsby, also Great Grimsby, is a large coastal English seaport and administrative center in North East Lincolnshire, on the South Bank of the Humber Estuary, close to where it reaches the North Sea.
GALLERY
Caring for you, Caring about you