Welcome to Knights Care's very first Good News blog!
We often receive notes of recognition and thanks for all of our care homes praising our work and our amazing staff members!  We thought that it might be a lovely idea for us to pop these into a blog for all of our wonderful families and staff to read each month!  After all – there's enough bad news in the world at the moment, it's lovely to read some heart warming, positive stories!
Each month, we'll be sharing three or four stories from our homes to share our good news and also our heartfelt thanks to some really special people!  This month, it's all about Drovers Call!
Councillor Patricia Bradwell and Glen Garrod from Lincolnshire county council and people services, recently emailed our Drovers Call manager Wendy, to thank the team for their amazing commitment and dedication.  Councillor Bradwell also recognised that 2020 had been 'an extremely challenging time' but that the hard work put in by the team at Drovers Call made her extremely proud and humbled by the dedication and commitment shown.
In addition, the team at Drovers Call were presented with a Special Recognition award from Gainsborough town council.  The council presented our team with the award to recognise their outstanding contribution to the community during the coronavirus pandemic.  The award was sent to organisations or individuals locally who have gone the extra mile to help and support the local community during the pandemic!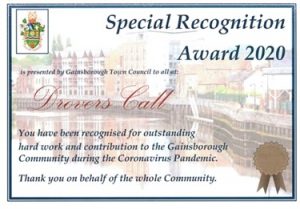 Finally, the team had a lovely email from the daughter of one of our residents, Jann, with some lovely feedback!
'Hi I came to visit my mum for the first time in some time due to COVID. Can I Say a big thank you to all of the staff she looks so well, was happy and they had done her makeup and hair beautifully. Amazing job.
Many thanks
Jann'
It's always wonderful to have fantastic feedback such as this, especially as it's been such a challenging year!
We'll be back with another Good News Blog in January, in the meantime – we want to wish you and your families a very Merry Christmas and Happy, Healthy New Year!
Knights Care