February Focus
February is a lovely month (excuse the pun) with lots to look forward to! Valentines day on the 14th is always a favourite with our residents because we tend to have lots of fun and fab activities going on as well as a glass of fizz and a few chocolates to celebrate the day of love!
This month, we started on quite a serious note. The 1st of Feb is Dignity Action Day – an annual opportunity for health and social care workers and members of the public to uphold people's rights to dignity. More on this further on in the newsletter, but obviously, it's something that's really close to our hearts. Because of this, we decided to turn February into Dignity awareness month, focusing our social media posts all around how we go over and above to provide our residents with dignity, choice and respect. It's some- thing we don't talk about enough and we loved that we were able to talk about some of the little things we do, which mean such a lot to our wonderful residents.
We hope you enjoy our February newsletter! Please get in touch or let us know if there is anything you'd like to hear more about.
Valentines day love!
As we mentioned, Valentines day is quite the occasion at Knights Care! Cards, chocolate and fizz are a given, alongside arts, crafts and activities. Finally, we have a slap up meal and some of our homes even had a sing song! We made sure that all of our residents had a ton of fun!
Here are a few snapshots from our wonderful homes: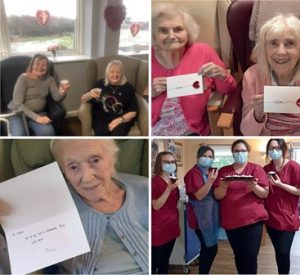 Dignity in Care
As we mentioned earlier, dignity is central in caring for others. We always consider our residents and regard ourselves as a person-cen- tred organisation, putting residents dignity first.
We do this by showing respect for our residents and giving them as much choice as we can – from the food they eat down to the activities they participate in.
With February being our Dignity month, the following 'Dignity Do's' are a great set of rules to live by. Ones which we adhere to and ensure are followed in all of our homes:
As part of our core values, we encourage our residents, but we never force them. If a resident doesn't want to take part in a group activity, we try to find out why. If there's something they'd rather do – we will arrange it for them if possible. If a resident doesn't want to eat food that's on the menu for that day, we'll find them something they like and something they want to eat! Choice is key to keeping a persons dignity intact and we will always give our residents as much choice as possible!
#FabFriday!
We began Fab Friday in January with the focus being on health and nutrition (as everyone seems to be on a bit of a health kick in Jan!)
The idea is that every Friday on social media, we share some of the things we're up to to keep everyone feeling 'fab'! Some of these activities have included sensory exercise, armchair exercise, arts, crafts, bingo and a focus on nutrition. If you want to find out more about #FabFriday, head over to our social media pages on Twitter, Instagram and Facebook.
Pancake Day fun!
Pancake day is full of fun and we always have a 'flipping' good time!
This year was no exception as our lovely residents selected their favourite pancake flavours and of course we made the most amazing pancake feast for everyone!
Here are some of the snaps from Abbey Court – you can see just how much fun we all had!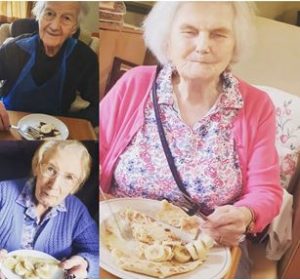 Activities, fun & games in our homes
We are incredibly lucky to have a brilliant Lifestyle team at each one of our homes. The teams take time to get to know each of our residents to understand what their likes and dislikes are and what activities they might enjoy as well as what they are physically able to do.
Our teams then plan fun schedules for each home, which vary on a daily basis. We've summarised some of the activities for you here, let us know if you can think of anything else you think our residents would like to do – if it's possible, we'll try and include it in our schedules!
Pamper days
Pamper days are great self care days for all of our residents. Our teams will provide hair cuts, manicures and general pampering to make sure that everyone feels their absolute best! We also help our residents to apply make up if they would like. Even though we can't have visitors at the moment, our residents still love to look their best!
Flower Arranging
Flower arranging is another creative outlet for our residents and one which results in beautiful blooms all over our homes! We absolutely love to see the creations our residents come up with – from tremen- dous tulips to colourful carnations!
Recently, The Maple care home were gifted some gorgeous tulips from Trimdon Village Co-op and our residents made some stunning bouquets for the home!
Play your cards right!
One of our residents favourite games, 'play your cards right' is super fun and a brilliant group game! Everyone gets involved and you as can see… we take it to a new level!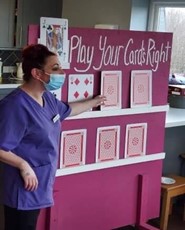 Armchair Exercises
Armchair exercises are a great way for our residents to get moving without putting any strain on themselves. Armchair exercises have been proven to improve blood flow and dexterity, brilliant for those residents who aren't mobile enough to partake in a short walk outside.
Dancing
All of our residents love to dance, whether it's in their chairs or if they want to get up and have a boogie – our teams have a ton of fun getting up and dancing along too! Some of our favourite memories are of afternoons spent dancing and singing away together and reminiscing to wonderful music!
Moving forwards – visitations!
We are very pleased to inform you that all residents in care homes in the UK have now been given the option to have the Covid 19 vaccina- tion. A high rate of participation from residents and staff has directly contributed to the Government announcement made on 20th Feb 2021 advising we can start to have one named visitor per resident as of the 8th March 2021.
This is great news and something we have all very much been looking forward to. As previous, we will commence this via a booking system with a Lateral Flow Test 30 minutes prior to your appointment.
We appreciate the past year has been such a difficult time for our residents, friends and families and we thank you all for your patience and understanding.
As a Company operating in the health care sector, it has also been an extremely difficult and challenging time for us and our team, we would like to pay tribute to all our staff members who have excelled in their dedication and delivery of service to ensuring our clients have been kept safe and well.
The Government road map is very exciting for us all and we hope to get back to normal as soon as possible!