A Marvellously Egg-citing March!
March is always so much fun. With the arrival of Spring, beautiful flowers popping up everywhere and of course, we've been getting ready for Easter!
In the run up to Easter next month, we love to spoil our wonderful residents with Easter egg deliveries, chocolate galore, baking and Easter themed arts and crafts. We get wrapped up warm and take walks in our beautiful gardens together, taking note of all of the spring flowers, especially the beautiful daffodils!
We also had some visitors to The Maple, read on to find out how our residents had a ton of fun watching some baby chicks hatch!
Our newsletter is released every month and provides a summary and highlights of what we've been up to in all 5 of our lovely homes. If there's something you'd like us to cover, or you have any sugges- tions for our newsletters or social media, please get in touch and let us know!
March focus – Springtime!
Spring has well and truly sprung here at Knights Care and we are making the most of the fresh season by celebrating all things
Spring!'
We are so lucky to have beautiful gardens to walk through and wrapping up warm and sitting in the sunshine with a cup of tea is one of the finest ways to appreciate all of the nature around us.
Our amazing volunteers have planted some stunning flowers, provided beautiful garden ornaments and of course, we're lucky to have some fantastic wildlife to watch too! Our bird feeders are always stocked well and it's brilliant fun to watch all of the different birds popping in to have a nibble!
Springtime Activities
Our brilliant lifestyle teams are absolutely core to our homes. They create fantastic activities for our lovely residents to enjoy and this month, the activities were all themed around Spring.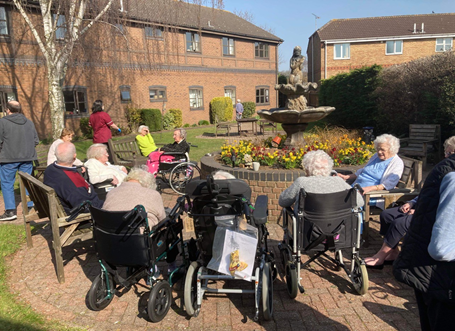 Saint Patrick's Day Celebrations!
Saint Patrick's ay is always a fun celebration, with dressing up, a little sip of Guiness and parties across our homes to celebrate Ireland! You can see from the photos below that our residents have made the most of the celebrations and we've had a fantastic time!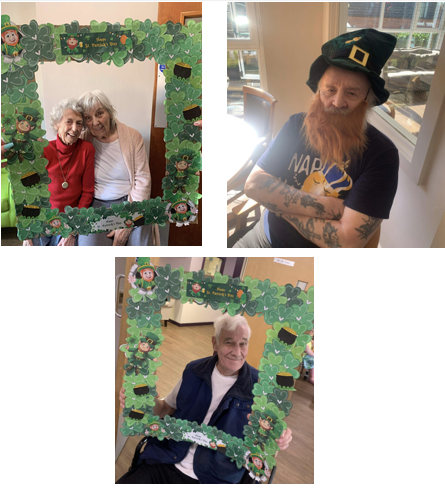 Baby chicks
At The Maple, we've had a few visitors this month… with the advent of Spring, what could be more festive than a group of baby duck- lings? Prior to hatching, our ducklings were delivered and our residents delighted in watching them hatch! They've now been safely delivered to a beautiful farm with a rather large lake for them to swim on, but it was wonderful to look after them for the short time we did!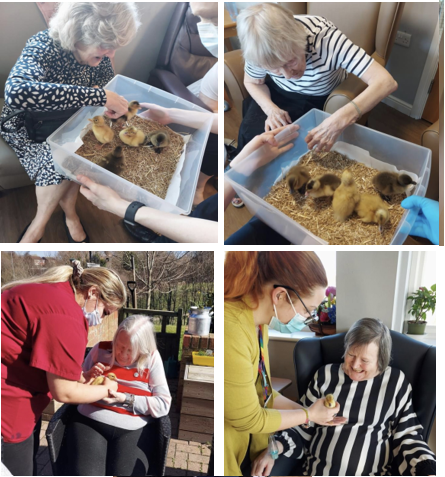 Residents at Randolph House are enjoying outdoor activities as the weather got a bit warmer. With a Spring themed quiz and yummy ice creams, we had a lovely afternoon relaxing outside in the sunshine.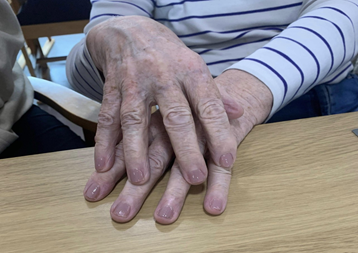 And of course, it wouldn't be Knights Care without a pamper session! Our lovely residents have been trying out beautiful Springtime nail colours, which look absolutely stunning! Pale pinks and pastels were favourites and as you can see above, the colours look gorgeous!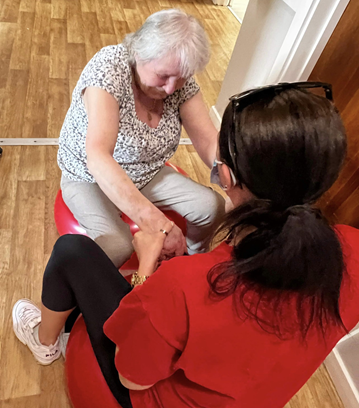 ed nose day was a lot of fun and at rovers Call, we managed to incorporate physical activities into our celebrations for the day! And below, at The Maple, we've already begun our Easter activities – creating Easter Bonnets!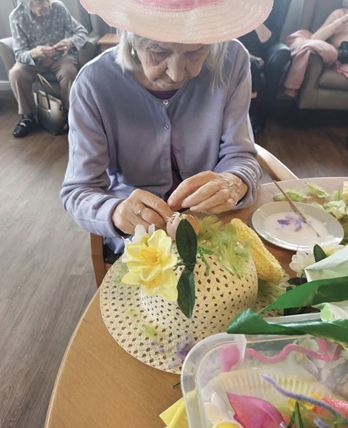 March Awareness Days
March is the great daffodil appeal from Marie Curie – a cause we like to support as Marie Curie nurses are so vital to support families and individuals dealing with cancer. The great daffodil appeal is one of the charities biggest annual fundraising campaigns.
Pie week takes place on the 7th March, a perfect opportunity for our residents to enjoy their favourite pie! From savoury to sweet, we're rolling out the pastry and providing a yummy celebration of one of the UK's favourite dishes.
International womens day on March 8th celebrates women around the world! We will be celebrating our residents as well as our brilliant team members!
Global recycling day is March 18th and we made a valiant effort to look at our waste management and to try and find a way to continue to reduce the amount of waste we produce at each of our homes.
Recycling is key to us and we ensure that we recycle anything we possibly can to reduce waste.
We'll continue to post about awareness days moving forwards – check out all of our social media channels to stay updated!
The month ahead
The month ahead will be themed all aabout Easter!
We, obviously, adore Easter in our homes and there are many activi- ties leading up to Easter weekend which we enjoy!
From making Easter Bonnets, to Easter themed bingo, egg hunts and of course, very much chocolate scoffing, we always have so much fun! This year is going to be no exception!
We also enjoy a superb Easter Sunday lunch – a roast with all of the trimmings! In April we'll also be talking about nutrition and focusing on seasonal produce as well as some of the ways we ensure our residents are enjoying the best quality ingredients in their meals.
Our social media channels are the best way to find out more about what we get up to, what activities we're taking part in and also all of our awareness days and support initiatives! We are on Instagram (@Knights_Care) Facebook and Twitter (@KnightsCare1)