We've had an AWESOME April!
The weather seems to have been getting sunnier and we're slowly but surely emerging from lockdown! April has been a good month and there is tons more to look forward to throughout 2021!
Here at Knights Care, we've focused on hobbies in April! Whether residents have brought hobbies with them or have found something they love to do whilst with us, we absolutely love watching our residents doing activities that they enjoy!
This month we'll run through some of the amazing hobbies our residents enjoy – from gardening to spa days! We hope you enjoy our April newsletter – as always, please do let us know if there is anything else you'd like to be featured here or on social media!
Community Garden Week
Community garden week is a national opportunity to celebrate the wonderful school and community gardens across the country as well as to give thanks to those who take such wonderful care of them.
Community garden week kicked off in style here with our amazing Drovers Call volunteers, Bill and Peggy, travelling over to our newest member of the Knights Care family, Randolph House.
Bill and Peggy work tirelessly to ensure that our residents at Drovers Call can enjoy the garden there throughout the year. They went over to Randolph House to spruce up the garden there and make it more accessible and enjoyable for all. A few of the residents even got involved with the tidy up!
Bill and Peggy also restored our lovely fountain to its former glory – where previously the fountain didn't have any running water, they worked to unblock pipes and restore this stunning water feature for everyone!
Take a look at the pictures below to see the stunning results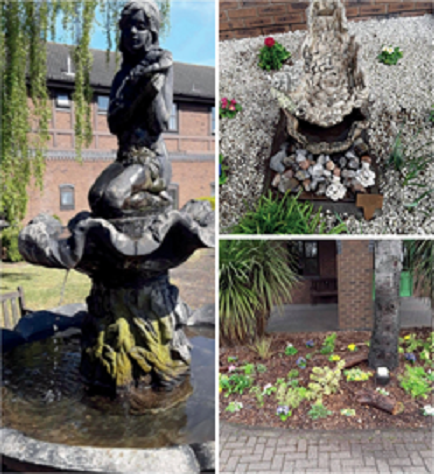 Reduced mobility & hobbies!
Reduced mobility can be incredibly hard to come to terms with, particularly if you've previously lived an active life. For some of our residents, not being able to do everything they previously did can be a constant source of frustration. So for those who are less able to be active, how do we help to keep them busy, occupied and most of all, happy?
Our fantastic lifestyle teams work to come up with hobbies which are easy and simple for those with reduced mobility. These hobbies are carefully thought out and often require a fair bit of planning – seeing our residents enjoying themselves means everything to us!
We've included some of our residents favourite activities below!
Brain games – puzzles and brain games are perfect for keeping minds active!
Balloon sensory – balloon sensory exercise is not only fun, but great gentle exercise!
entle walk in the garden – we often head outside for a small walk or meal outside when the weather is nice! Walks in nature have been found to boost your mood and they're also a great way to get some vitamin D!
Pet therapy – we have pets in the majority of our homes and pet therapy is not only tons of fun, but the animals are pretty cute too!
If residents are struggling to get up and about, we'll bring hobbies to them. We've done planting and flower arranging from bed before and we've even brought karaoke to the bedside of one resident who loves to sing!
Dementia friendly decor
One of the things that is absolutely key in our homes is that we work to ensure that every single one of our residents is comfortable and happy.
Something that can greatly affect somebody suffering with dementia is flooring. As dementia advances, spatial awareness can become difficult and different shades, textures and detailing can become confusing.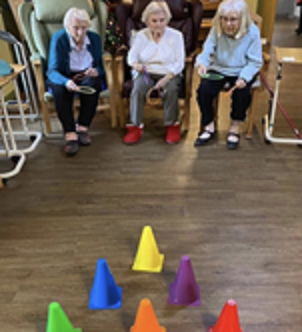 For example, dark mats can look like holes, shiny surfaces could be perceived as wet or slippery and changes in colour can look like they have barriers or different depths to someone with dementia.
The flooring in all of our homes is specifically designed to reduce any problems for someone suffering with dementia.
Hobbies we LOVE!
As this month is all about our favourite hobbies, we thought we'd include some of our absolute favourites. Carefully planned by our amazing lifestyle teams, we have some brilliant activities which are bound to bring a smile to anyone taking part!
Gardening
ardening is a hobby that some of our residents worry they'll miss when they move into our homes. In fact, we do everything we can to keep them green fingered!
For those who are able, we organise gardening activities as part of our lifestyle schedules. For those with limited mobility, we bring gardening indoors with potted plants and activities like sunflower potting!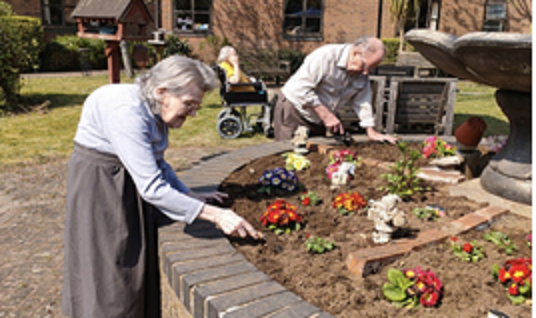 Arts and crafts
We've talked about it before but we'll keep talking about the AMAZ- IN arts and crafts activities! This month alone, we've had tie-die t-shirt making, drawing, colouring, painting and even a hippy day (where obviously all of our lovely residents at The Maple donned their beautiful tie-die t-shirts!)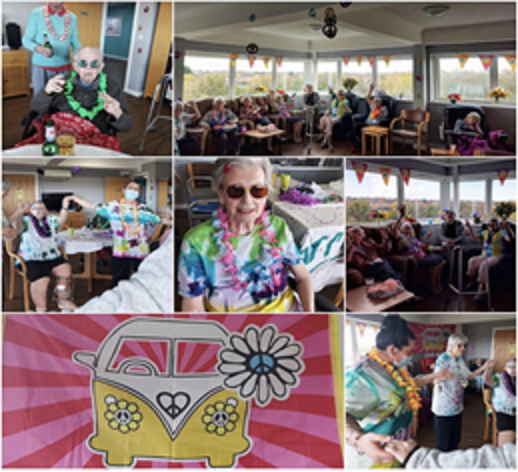 Puzzles
Puzzles are a definite favourite for all of our residents and we ensure that our libraries remain fully stocked with all sorts of different puzzles to keep everyone entertained!
One resident at Abbey Court, Janine, absolutely loves her puzzles and even has her own corner in the lounge area, dedicated to putting jigsaws together!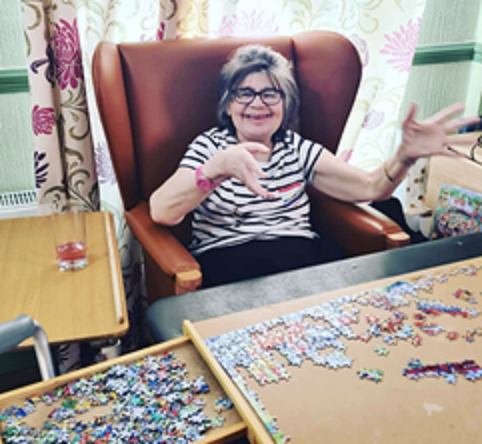 Spa & Pamper days!
OK, you got us here, we appreciate that spa days aren't truly 'hobby' activities, but everyone loves them, so we thought we'd include them as part of our hobbies feature!
Our brilliant teams create beautiful spa and pamper days which include foot baths, nail painting, hair styling and of course, for the ladies – make up! Here are some of our ladies at The Maple enjoying their spa day!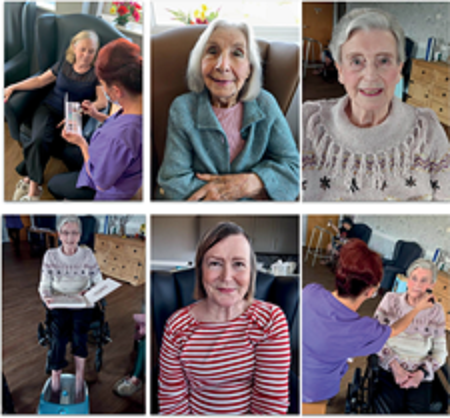 Exercise
Last, but certainly not least on our list of hobbies is exercise. Our teams have worked hard to create exercises which absolutely everyone can get involved in, no matter their mobility level. From balloon sensory to armchair exercise and tai chi – we do it all!
Our carefully planned exercise activities are all designed to improve circulation and help residents with mobility issues. Something which residents who love exercise worry about when they move in is; 'I love to exercise – will I still be able to? We're on hand to ensure that everyone can keep moving safely whilst also having lots of fun!