March Focus
Welcome to March! This month, we've been focused on Easter, Springtime, seasonal produce and sustainability!
This time of year is probably our favourite season with lighter, brighter mornings, the Spring flowers popping up and some wonderful seasonal produce! We've been cooking up a storm as well as taking part in some amazing activities – St Patricks day, Easter bonnet making – it's been a ton of fun!
In this month's newsletter, we'll run through all of the great stuff we've been up to, some of our strategies around utilising local, seasonal produce and also our sustainability promise.
We've also got a super new announcement to make! Keep reading to hear more about how Knights Care is becoming bigger and better than ever.
Happy March! We hope you enjoy hearing about what we've been up to! Please get in touch or let us know if there is anything you'd like to hear more about.
St. Patricks Day
St Patricks Day was quite the celebration for our residents. The Maple went all out with the decorations and residents had the opportunity to make their own hats!
At Abbey Court, our residents were treated to Bailey's Irish Cream coffees and of course Guiness!
As you can see from these pictures, we had a lot of fun and our residents loved celebrating!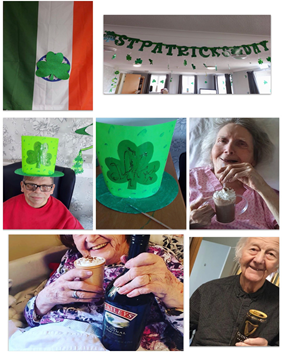 Easter Bonnet making
The Maple are already preparing for Easter with an amazing Easter Bonnet making afternoon! We loved spending time making these stunning bonnets and residents even had tea and biscuits whilst making their stunning creations!
We just love to celebrate spring time here at Knights Care and we are lucky enough to have been able to nip out into the gardens of our beautiful homes a few times already this year.
Our afternoon of Easter bonnet making was no different and residents took a well earned break halfway through with a lovely walk out on the terrace in the glorious sunshine!
We can't wait for summer when the gardens are truly at their best and walks and afternoon cocktails can be enjoyed in the sun!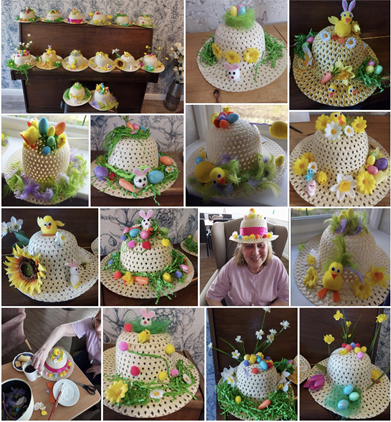 Sustainability Promise
As a larger organisation with five care homes, we are so keen to keep up our sustainability promise as well as other intiatives we employ to reduce our carbon footprint as much as possible.
We recycle as much as we can. It's impossible to avoid using plastic altogether, but when we have to, we ensure it gets recycled! Addition- ally, we try and use as much as we can. Any veg peel or compostable materials are popped into compost bins ready to feed our gardens.
And re-usability is very important too – any packaging which is worthy will go into our crafts box, ready for residents to use to create their own cards, posters and craft projects!
Seasonal produce!
Seasonal produce features heavily on our menu here at Knights Care. Not only is it a great way to stay sustainable, seasonal fruit and veg often has increased nutrients due to being harvested at its peak – this allows it to retain its full vitamin and nutrient content. Additionally, seasonal produce usually has the best flavour and colour – maximis- ing superfood properties like antioxidants.
So what is in season in March?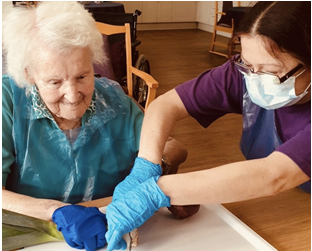 Leek
Leeks are a good source of vitamins A, C and K (important for helping your blood to clot). They also contain minerals such as iron (which is important for red blood cells) and manganese (involved in the regulation of brain and nerve function). Leeks are also a good source of dietary fibre.
Beetroot
Packed with essential nutrients, beetroots are a great source of fiber, folate (vitamin B9), manganese, potassium, iron, and vitamin C. Beetroots and beetroot juice have been associated with numerous health benefits, including improved blood flow and lowering and regulating blood pressure!
Cabbage
One of March's key seasonal vegetables is in fact, cabbage. The leafy green veg is full of iron and vitamin C, providing powerful antioxi- dants to support the body. Whilst it's in season – cabbage features heavily in the veg on our fabulous Sunday lunches!
Parsnips
Another Sunday lunch favourite – parsnips are a great source of fibre and are also high in antioxidants! The perfect addition to any Sunday lunch!
Purple Sprouting Broccoli
Purple sprouting broccoli is not only a sweeter alternative to standard broccoli, it also looks fab on any plate! In season in March, it's another veg which is really high in vitamin C, iron and antioxi- dants. We feature purple sprouting broccoli regularly on our menu whilst it's in season and it's certainly well loved by our residents!
International Womens Day!
The 8th of March was International Womens day! We thought we'd share the below collage of some of the amazing women in our organisation. These women are just a small selection of all of the amazing ladies who work hard to uphold Knights Care Values and to ensure that we go over and above for each and every one of our residents.
On International Womens Day, we said thank you and celebrat- ed every single one of you!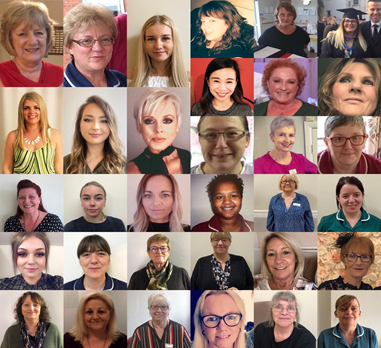 Randolph House!
We are so excited to announce the latest addition to the Knights Care portfolio – Randolph House. Randolph House is a 70 bed home situated in Scunthorpe, North Lincolnshire.
Randolph House is the second largest care home in the Knights Care family and we are so excited to welcome the amazing team to our care home family!
Randolph House offers single and double occupancy rooms, the majority of which are en-suite – we encourage each resident to bring their own personal touches to really make their rooms their own. The group will even consider pets on a case by case basis!
With two large living areas, Randolph House provides great opportu- nities for communal activities and games – which are what our lifestyle teams are famous for! The library area is fully stocked with books, games and lots of fun puzzles!
We are looking forward to seeing lots of lovely residents having fun at Randolph House!