Marvellous MAY!
We've had an absolutely MARVELLOUS May! For the first time in over a year, our residents have been able to get out and about on day trips! We've had ice cream, fish and chips and even a Mcdonalds!
As always, our brilliant Lifestyle teams are creating amazing activities, games and puzzles for our residents, but with more options to go out and about, it feels as though the world is our oyster!
The only downside this month for everyone has to be the weather!! We eagerly await spring and summer and can't wait to get out into our beautiful gardens. We're looking forward to summer mocktails and barbeques, family visits outside and some lovely light walks.
Family focus
For May we decided to focus on family. Knights Care is a family run business and family truly means everything to us.
We decided to run through how we work together with families on behalf of our residents. We wanted to talk about how we create a family atmosphere within our homes, so that our residents feel as though they are part of our family.
Once you're part of our family, you'll always will be. Even if your loved one is no longer with us, we will still invite you to be a part of Knights Care life. Once we are able to host functions and events again, we will be inviting previous residents families along.
Traditions are also central to family life – they're something we value for all of our residents. If you have a family tradition which you uphold for celebrations such as birthdays or Christmas, we will do our very best to ensure we recreate it.
We also work in conjunction with family members to put together parties, activities and celebrations. For example, if your loved one enjoys flower arranging and you want to organise a flower arrang- ing activity for them, we're happy to help! Residents families are often very involved with planning birthday parties as well!
It is our belief that family isn't just those who are related, families are people who support us and lift us when we need. Which is everything we aspire to do for our residents!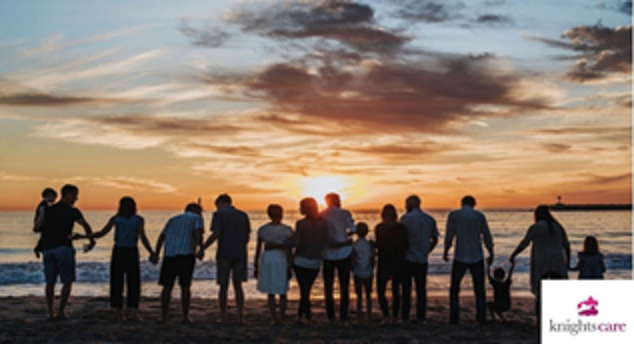 Visitations & keeping in touch
We understand that not visiting your loved ones has been so difficult for not only them, but you too. So we've done absolutely everything we can to keep communication open and to ensure that if you want to have a chat with your loved one, the option is there. We wanted to run through the latest regulations on visiting, as well as some of the ways you can keep in touch with our residents in between visits!
Now that government regulations are allowing up to five nominated visitors per resident and with lateral flow testing on site at all of our homes, we are thrilled to announce that we are fully prepared to welcome families and friends!
We've created dedicated visiting spaces at all of our homes. Using screens and socially distanced furniture, we have tried to make everything feel as 'normal' as possible. Each home has a dedicated visiting room with entrance and exit completely separate from the rest of the home. As the weather gets better (fingers crossed) we're looking forward to hosting outdoor visits in the sunshine!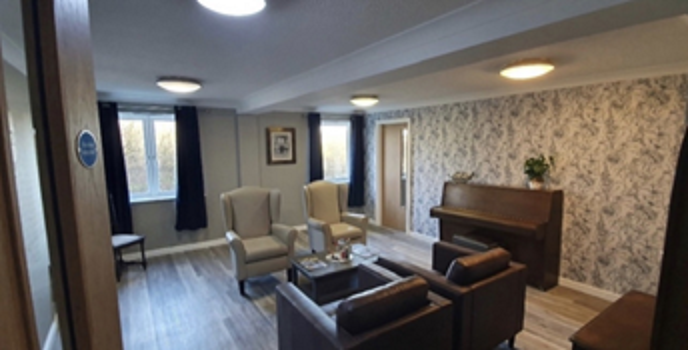 For those family members who are still unable to visit, we have a fantastic solution. Our Facebook portals are the perfect way to have an immersive video visiting experience! We're able to set up the portals anywhere in our homes – so even if your loved one is in their bedroom, we can arrange a video chat!
During the height of the pandemic, this technology was invaluable to us and our residents. Being able to keep in touch meant everything. We still find the portals incredibly useful now though, even if you're visiting regularly, we understand that you might miss your loved one, so they're perfect for an in-between visit chat!
Have you read our blog?
One of the things we've done this year is implemented a brand new blog on our website! Our blog is designed to help with any questions you may have around Knights Care and what we do differently – how we go 'over and above' for our residents and their families.
You can access our blog via the 'News' section on our website. There are lots of bits of useful information and advice in there, if you have any questions – we're only at the end of the phone!
Social media – #fabfriday
Look out for #FabFriday on our social media channels! Fab Friday is an opportunity for us to update you on some of the super fun activities and games we've been up to that week at our homes!
The idea is to celebrate Friday and have a FAB start to the weekend! Head over to Instagram, Facebook and Twitter to find out more!
Out and about!
For the first time in over a year, our residents have ventured out and about! It's been so exciting – we arranged a couple of day trips at Randolph House and The Maple with our other homes following suit over the next few weeks!
Getting out and about is so important for our residents, particularly after the last 15 months. Trips are something to look forward to, a change of scenery – and we like to ensure we have some fun along the way with treats like ice cream and even singing on the bus!
We'll continue to share our outings with you via our newsletters, blogs and social media – over the coming weeks, we'll be planning more – so stay tuned!
Charity days!
You'll notice on our social media channels that we are raising awareness for various charity days. We regularly share infor- mation and links to events such as World Hunger Day, which took place on the 28th May.
Knights Care group do as much as we can to support charity and raise awareness around important issues. Although it'd be impossible for us to cover everything, raising awareness through social media is one way we can certainly help!
Stay tuned on social media – Twitter, Instagram and Facebook – to learn about charity and awareness days which are close to our hearts.
May events & Birthdays!
May is such a busy birthday month! We've had so many birthdays across the Knights Care group, which has meant a party almost every day! but on those days where we weren't partying, we were still celebrating – read on to find out more!
When we're planning events like big birthdays, as we mentioned, we like to involve families to get help with very important things like cake, decorations and of course – the menu!
We also love to plan Tea Dances, kareoke sing alongs – any excuse for a party – families can get involved with any of this! We definitely don't need an excuse to organise a party! Below is a collage of our Maple residents enjoying a lovely tea dance with homemade afternoon tea and mocktails!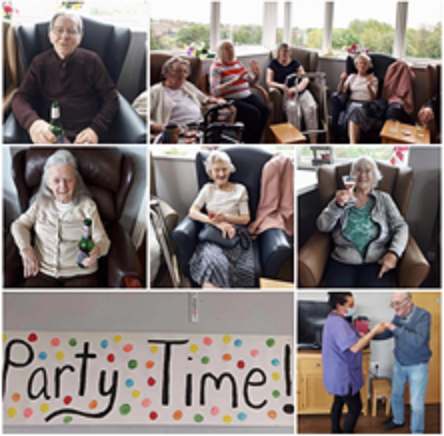 We also saw apple pie day in style here at Knights Care! Each home celebrated apple pie day with scrumptious apple pie for dessert!
Everyone had a choice of ice cream, cream or custard with their apple pie! Any excuse!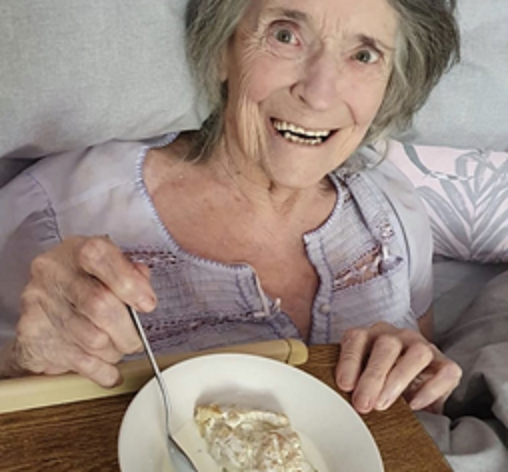 In addition to all of the celebrations and events from this month, our lifestyle teams are busy planning events moving forwards. As the weather gets nicer and we get the chance to go outside a little more, we're looking forward to organising a few outdoor get togethers, perhaps even including families and friends!
Stay tuned for further information and announcements – we look forward to catching up again with you again next month!