Awesome August!
Welcome to our Awesome August!
We've had the best arty month and although the weather wasn't quite all we'd hoped for… we made the most of our time and managed to snatch some time outside when it was fine!
August's focus was all about art, crafts and everything arty we get up to with our lovely residents! From arts, crafts, painting, colouring, drawing and even tie-dieing, we've covered it all! Even down to flower arranging and gardening!
We hope that you love our arty August, especially some of the amazing works of art which our lovely residents have created!
Our newsletter is released every month and provides a summary and highlights of what we've been up to in all 5 of our lovely homes. If there's something you'd like us to cover, or you have any sugges- tions for our newsletters or social media, please get in touch and let us know!
Arts and Crafts
Arts and crafts are so much fun! One of our favourite activities – so what's better than an 'Arty August!'
This month, we've featured some of our residents amazing pieces of art, as well as flashbacks of some of the most popular activities we've done so far this year! Read on to find out more…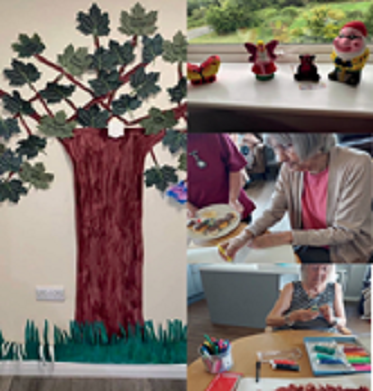 As the year goes on, we're going to feature more and more art masterpieces, because with the changing seasons and different landscapes in our gardens, there's plenty of inspiration around. Above is our family tree and garden sculptures for The Maple. We can't wait until Autumn to start painting and drawing the changing leaves and all of the lovely colours.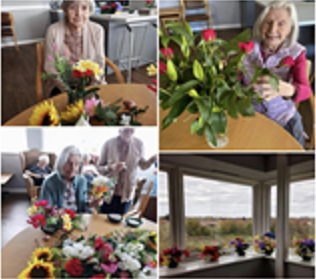 Flower arranging is also certainly an art form. We adore making beautiful bouquets of real and silk flowers which bring gorgeous bright colours to our homes in the form of these stunning arrangements!
We are so lucky to have the most beautiful gardens in all of our homes. We not only see gardening as a form of art, as adding colour to any outdoor space is certainly arty, we also love to get inspiration from nature. Here at Drovers Call, you can see our resident gaining inspiration from the stunning summer flowers in our hanging baskets and borders!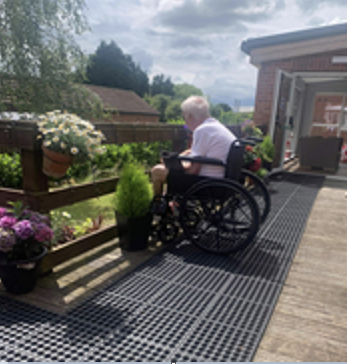 Highlights from the homes
This month, we've all certainly been taking inspiration from Arty August!
You've seen our family tree at The Maple, well we also wanted to get prepared for Autumn! As well as all of our wonderful activities, we found time for August themed colouring in and began creating a beautiful Autumn wreath for the entrance to the home!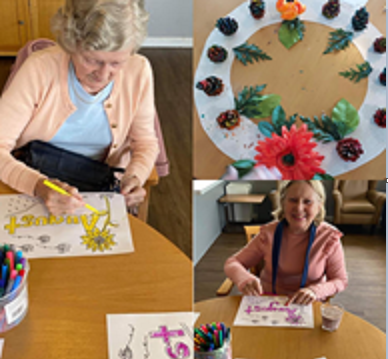 In addition, Drovers Call have recently visited Bransby horse home to have a cuddle with some very special horses and ponies! We've also been dancing and playing quite a few games – there's a snapshot below, but check out Knights Care social media for more!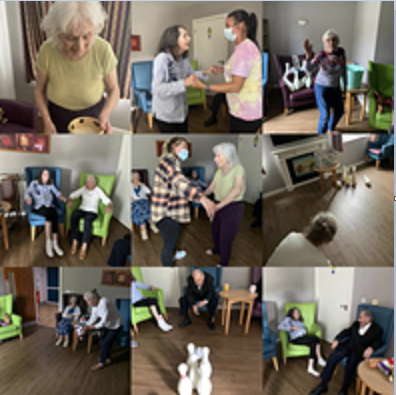 Our Gardens
We adore the change in seasons and we're certainly looking forward to a stunning, colourful autumn. Our arty activities for the rest of the year will centre around autumn, Halloween, winter and Christmas – although it seems very strange to be talking about this in August, we're already starting to see the first signs of Autumn appear!
We've got several outdoor spaces which can still be used for walks, gardening and even sunset cups of tea. While ever it's mild enough to use these, we certainly will do!
On your next visit to see your loved one, why not make use of our gorgeous garden areas, whilst it's still mild!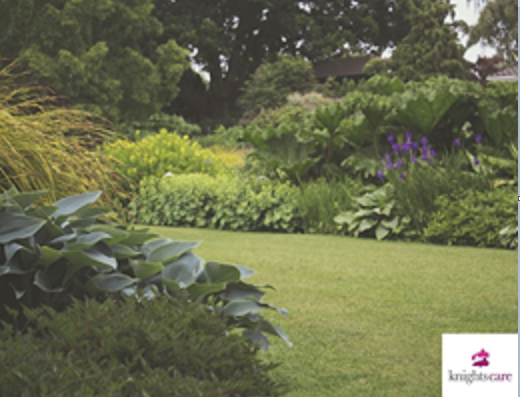 Art Therapy
Something we don't talk about often enough, is the therapeautic power of art. Creativity is key when it comes to therapy and art particularly is one of the most healing forms of creativity because it requires focus and provides a certain level of carthasism.
For residents with impaired language abilities, drawing, writing, painting and colouring can simply provide them with an alternative method of ccommunication. It can provide a way for them to express themselves and even calm any frustration or negative thoughts or feelings they may be experiencing.
Creating art engages attention, provides pleasure and can ultimately have a positive effect on neuropsychiatric symptoms which in turn can assist with social interactions and also provide a boost to self esteem!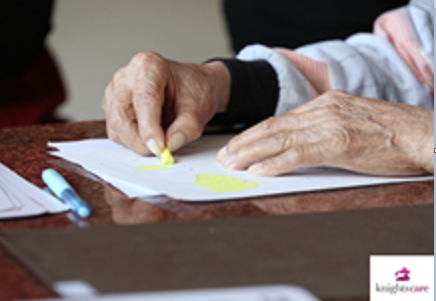 For those with painful conditions such as rheumatoid arthiritis, painting, colouring and drawing is a brilliant way to get hands moving, reduce inflammation and joint stiffness. We often find that after a few art therapy sessions and stretches, our residents who suffer from painful conditions such as arthiritis, find symptoms easing a little.
Volunteers, Schools & local nurseries!
It wouldn't be Arty August without a HUGE nod to our amazing volunteers, Schools and local nurseries.
Our volunteers do an absolutely amazing job maintaining our gardens and ensuring that pathways are clear, we have beautiful, colourful outdoor spaces to be inspired by and we also have some- where to enjoy in the summertime, if we want a little dose of nature (or an amazing barbeque afternoon!)
Our local schools and nurseries often get in touch and send beautiful works of art, stories and letters to our lovely residents. These amazing gestures are so appreciated and enjoyed. We like to display any artwork, but only after our residents have had chance to have a closer look and read any messages.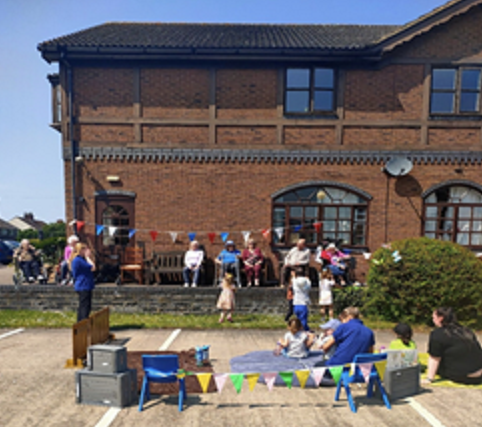 At Randolph House, we're really lucky to have a nursery next door, so in fine weather, our residents are often treated to some brilliant performances and sing songs! Above is a snapshot of this happening on a particularly glorious day, the children sang and danced and our residents had a wonderful time enjoying the show!
Next month
In September, we'll be focused upon creating in the kitchen! Often, residents help out with creating the most wonderful cakes and treats! We love to hear about their favourite recipes and re-create these together where possible!
September is also World Alzheimers Month. The idea of World Alzheimers Month is to raise awareness around Alzheimers and dementia, symptoms and ultimately to continue the immense reasearch and fund raising to find a cure.
You can find out more about the Alzheimers Society and how you can support World Alzheimers Month on their website: www.alzheimers.org.uk Head over to our social media channels to find out more about what we're up to this September, what kitchen creations we're coming up with and also how we're going to be supporting World Alzheimers Month. We are on Instagram (@Knights_Care) Facebook and Twitter (@KnightsCare1).