Jubilant JULY!
With warmer weather, a brilliant football tournament which we almost won and lots of brilliant activities planned, July was always going to be a superb month.
Regulations became more relaxed and with the increase in the numbers of visitors allowed to care home residents, we were so lucky to witness families and friends re-united in person!
We had a few big birthdays, setting up parties to celebrate and made the most of the lovely weather with games, ice lollies and paddling pools outside (in the shade of course!) Keep reading to find out exactly what we've been up to…
Our newsletter is released every month and provides a summary and highlights of what we've been up to in all 5 of our lovely homes. If there's something you'd like us to cover, or you have any sugges- tions for our newsletters or social media, please get in touch and let us know!
#GoodCareMonth
July was #GoodCareMonth, an incredibly important month in our calendars every year. We get the opportunity to really shout about the amazing care our lovely homes provide, at the same time saying a big THANK YOU to all of our wonderful teams!
With both an ageing population and individuals of all ages with more complex needs that require additional social care support, there is an increasing requirement to recruit and retain staff in the adult social care sector.
The Good Care Campaign is about celebrating the great work care organisations do each and every day and sharing it via the campaign. In addition to talking about our work and how we go 'over and above' it's also our chance to engage and inspire future generations to consider social care as a great career choice!
The campaign aims to raise the profile of the social care sector and to promote the great career opportunities and progression available to those who choose a career in social care.
Head over to our social media pages to find out more about #GoodCareMonth and what we've been up to to support the campaign!

Highlights from the homes
Our homes have had a busy month so we thought we'd share our top three highlights from The Maple, Drovers Call and Abbey Court!
At The Maple, we had an outdoor (in the shade) games afternoon with beanbag games, drinks, a paddling pool and of course – ICE LOLLIES! We had an absolutely blast, it really was wonderful to enjoy the gorgeous sunny weather!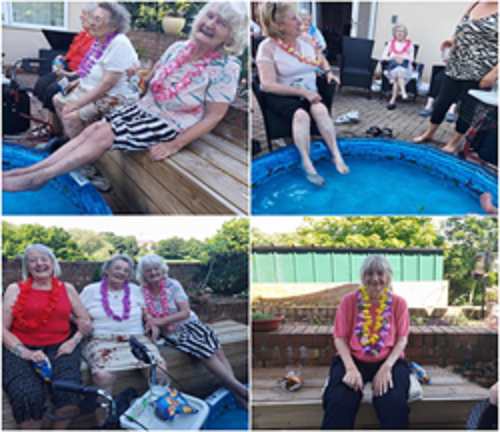 At Drovers Call, Jessy organised for a lovely pet visit to the home and this beautiful pup came for a cuddle with our residents! We're not entirely sure who enjoyed themselves more, but suffice to say that many cuddles were had and MANY treats were given!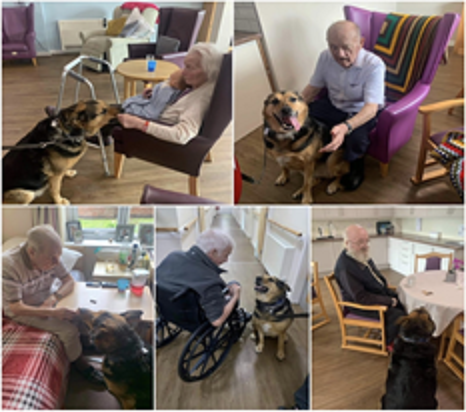 Finally, we had a brilliant visit from Zoo Labs at Abbey Court Care Home! Zoo Labs brought a range of creepy crawlies to visit our fascinated residents who had a ball with the lizards, mice and giant snails!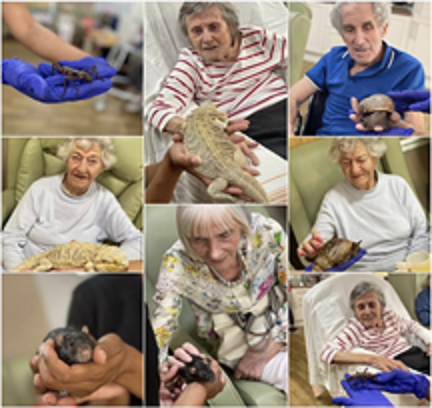 Abbey Court Garden Sing-A-Longs!
In July, we began the first of MANY sing a longs at Abbey Court, where we invite local singing superstars to pop into our garden and serenade our lovely residents. We also have a resident superstar team member – Julia Roberts! You may have seen Julia's fantastic accoustic set which she did at Christmas for our residents – she is incredibly talented!
The first of our lovely sing a longs took place on Wednesday 28th of July and featured the amazingly talented Jason Allen who boasts over
1.3 million TikTok followers due to his phenomenal voice!
Stay tuned for more updates on Abbey Court and their brilliant sing a long evenings!
Healthy Eating!
One of the things we get asked about a lot is how we stay healthy in our homes and how we ensure that all residents are being as healthy as they can be, particularly if they have specific dietary requirements, or if they are having an off day and don't necessarily fancy the healthy choices on our menus.
The absolutely key is to keep learning, something which our chefs and kitchen teams certainly do. For example, those residents with arthiritis shouldn't have an excess of tomatoes due to the fact that these can inflame the body and cause a painful flare up. So menus are specifically tailored to suit residents needs.
In addition to this, nutrition is incredibly important. We ensure that every meal is balanced and healthy, but of course we wouldn't ever deny anyone anything they love, so there is always an option for a treat!
We've mentioned before that we spend a huge amount of time getting to know each of our residents and included in this is their likes and dislikes when it comes to food. We want to ensure that they always have access to food which they love, so that if they aren't fancying what's on the menu, we can always make them their favourite meal or snack – which we often notice, will re-ignite their appetite!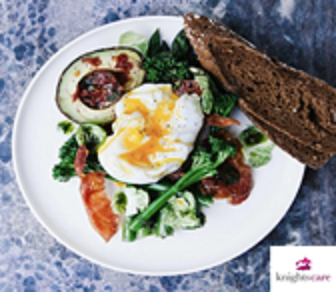 We also took part in a study with Sheffield Hallam University to understand the presentation of food and how to ensure it's as appetising as possible. We made changes to our dining rooms so that residents could feel as though they were in a lovely restaurant when having their meals. We looked at plating and cutlery and chose options which will mostly appeal to our residents and are comforta- ble and easy to use.
Get in touch to find out more about how we go over and above when it comes to healthy eating at our homes.
Types of care
Another thing we discussed on social media this month are the types of care we offer to all of our amazing residents. Each home has a different portfolio of care services available, from respite care to complex care and care for those with behaviours which challenge.
So – what types of care can we offer?
Nursing
Dementia
Complex
Behaviours that challenge
Residential
Respite
Day care
Brain Injury
Transitional
All of our homes offer different options for different levels of care, if you're wanting to find out more please get in touch with us and we'll be happy to talk about your specific case and how we might be able to support you and your family.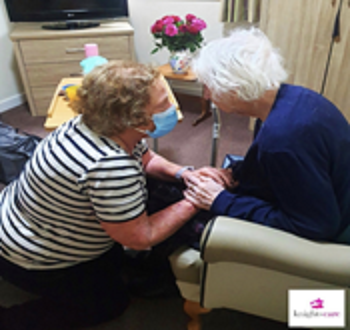 Next month
Next month, we decided to focus on some of the fantastic artwork our lovely residents provide. From tie die T-shirts to paintings, cards and even 3D art – we're very lucky to have such a talented bunch!
If you go into any of our homes, you'll note the abundance of colour- ful paintings, drawings and other artwork on our walls from our residents.
Yet another reason we chose to talk about Art in August, is because of the fantastic schools and nurseries around our homes who frequently send in lovely drawings and paintings for our residents. During the height of the pandemic, when visitations weren't allowed, art really did keep us connected with the outside world as residents received the most amazing paintings – plus we made some of our own, thank- ing the NHS!
Head over to our social media channels to find out more about what we're up to in August! We are on Instagram (@Knights_Care) Facebook and Twitter (@KnightsCare1)
Stay tuned for a fabulous arty August!