November has seen the advent of icier weather, cosy fires and for us, a serious case of Christmas decoration across all of our homes!
We're getting ready for the best time of the year, mince pies, fabulous food, cosy movie nights, games as well as all of the beauti- ful decorations! Christmas is full of activities, from carol singing to pudding baking, it's a ton of fun!
At Knights Care, we're really keen to understand as much as possible about our wonderful residents. We know that everyone will have their own traditions and ideas to celebrate the big day, so we try and incorporate these into our celebrations. If there is something your loved one enjoys as part of a Christmas tradition, please let us know and we will absolutely do everything we can to include this in our celebrations. It's so important to us to ensure that all of our residents enjoy the festive period! Our newsletter is released every month and provides a summary and highlights of what we've been up to in all 5 of our lovely homes. If there's something you'd like us to cover, or you have any suggestions for our newsletters or social media, please get in touch and let us know.
Diabetes awareness
November 14th was world diabetes day and we've shared a couple of posts this month raising awareness around diabetes. We wanted to support Diabetes UK and raise awareness because of several reasons, but primarily the picture below. The margin for error when it comes to insulin is so small – as you can see here.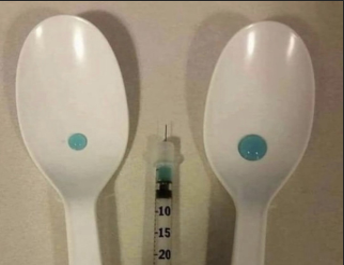 The amount of insulin on the left is 2 units – this amount is required when a type 1 diabetic person eats around 30g of carbohydrates.
The amount of insulin on the right is 10 units. Which could be fatal to a type 1 diabetic within around 3 hours.
This year, we celebrate 100 years since the discovery of insulin, one of the greatest medical breakthroughs of the 20th century and still the only e ective treatment for type 1 diabetes.
If you want to find out more about diabetes and how you can support Diabetes UK, head to www.diabetes.org.uk for more information, resources and details on how you can help!
Highlights from the homes
November is always a ton of fun because we're getting ready for Christmas! Which obviously has to be our favourite time of the year! Residents create beautiful decorations ready to put up and we all enjoy a few Christmas games, carols and of course a mince pie or two!
Take a look below to see what we've been up to in our homes!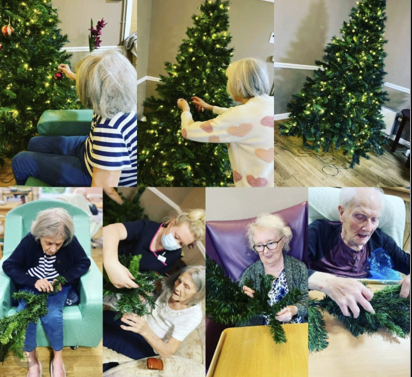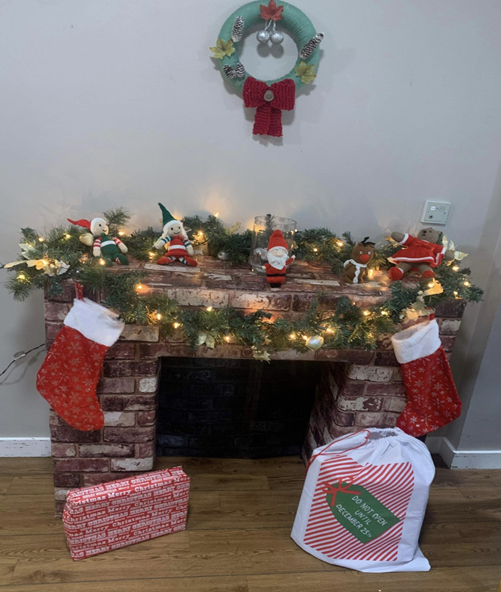 Drovers Call residents helped to decorate this gorgeous fireplace, because of course, anta needs a chimney to come down! We love the warm, cosy vibe this creates in our home!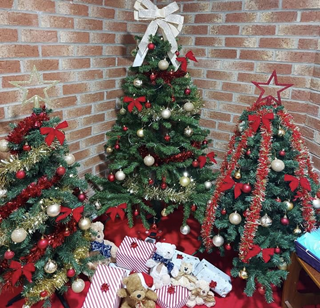 And finally, more beautiful decorations at The Maple! We have not one, but TEN Christmas trees at The Maple! Because, why not?
We're certainly going to be celebrating Christmas in style!
Christmas decoration creation!
Of course it wouldn't be Christmas decorating without getting our lovely residents involved in creating some of these stunning works of art, would it?!
Over the past few weeks, we've all had a great time creating some gorgeous decorations to spread the Christmas cheer throughout our lovely homes!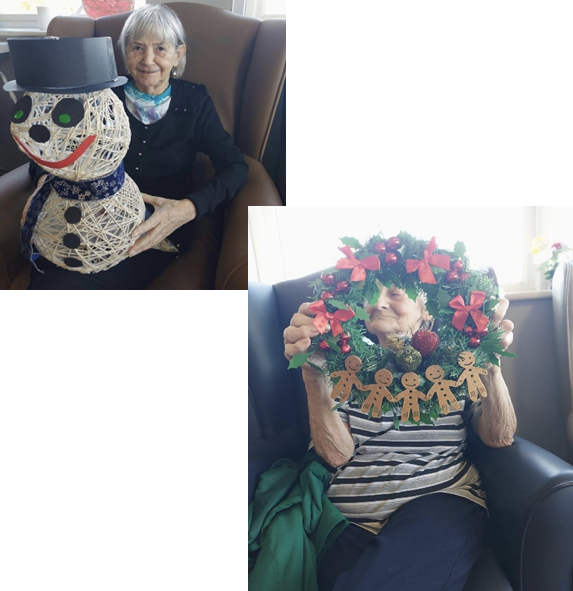 At The Maple, we made these lovely little snowmen as well as some stunning wreaths and garlands, as well as decorating our ten trees of course!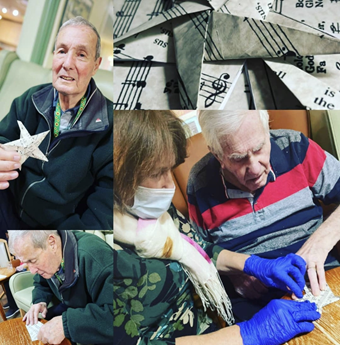 At Abbey Court, we tried our hand at Origami! Creating these stunning Christmas stars to hang on the tree from old music sheets!
We'll be keeping you updated with our Christmassy goings on over the coming weeks, as we get everything ready! We're even looking forward to the return of the Elf on the helf, even if he is a bit annoying! tay tuned and keep an eye out on social media for more
Christmas Plans
If you didn't know already, Christmas is our favourite time of the year. We absolutely love it, as do our residents!
o the day itself is incredibly important and we spend a lot of time and e ort ensuring we all have a superb time! Our teams not only create activities which are Christmas focused, we have carols, a visit from anta and of course, all of our residents get a little present from us!
Christmas pudding is key to the big day and we re-create the Knights family pud in all of our homes! The family recipe is treasured and along with tradition, all of our residents have a stir and make a wish leading up to Christmas.
As we mentioned previously, everyone has their own traditions and we work hard to ensure that these traditions are upheld for residents where possible – we understand that it's important to them and to you, their families and friends.
On Christmas day, we always have a beautiful roast dinner which includes as many options as you can imagine, so that everyone has something they love! Residents might want to enjoy a little glass of wine or sherry along with their dinner, which we enjoy together. Once Christmas dinner is finished, for those who don't fancy a little after dinner snooze, we sit together in the lounge reminiscing and telling stories. Christmas is a wonderful time for us with our residents as we often hear fantastic stories about their lives!
o, you can probably see why this is our favourite time of year! Get in touch to let us know if you'd like to arrange anything special for your loved one and we will do everything we can to help!
December – awareness days & focus
In December, there's only one thing we can focus on and obviously, that's Christmas! However, we will also be looking to the new year, thinking about all of our hopes and dreams for 2022 and creating a wish tree with our residents so that we can try and make their dreams come true over the next 12 months!
There are a ton of awareness days in December, especially those which are close to our hearts. From National Grief awareness week to the International Day of Persons with Disabilities, we'll be doing our usual on social media and raising awareness for all of the causes we possibly can!
Head over to our social media channels to find out more about what we're up to this November, what activities we're taking part in and also all of our awareness days and support initiatives! We are on Instagram (@Knights_Care) Facebook and Twitter (@KnightsCare1) updates!