Autumn celebrations and spooky Halloween fun!
October has been a lot of fun, getting used to the change in seasons (and although it's been milder, the change in weather too!) We've loved snuggling up with hot chocolate and popcorn, watching our favourite films.
There has been a lot of preparation to get ready for Halloween – all of our homes have got residents involved in decorating, pumpkin carving and of course cake baking, as it wouldn't be a Halloween party without cake!
With a ton of arts and crafts, games, dancing, trips out, pet therapy, our light projector sessions and more, we've had quite a busy month! We've also continued to celebrate all of the amazing awareness days which pop up! It was quite a foodie month, with national cheese toastie day and also national chocolate week! Our residents often love to play Bingo for chocolate prizes, so we certainly enjoyed a few games!
Our newsletter is released every month and provides a summary and highlights of what we've been up to in all 5 of our lovely homes. If there's something you'd like us to cover, or you have any sugges- tions for our newsletters or social media, please get in touch and let us know!
Autumn activities!
October was spent celebrating all there is to love about Autumn! From food to pumpkin carving and Halloween decorating, we covered it all!
One of the most fabulous activities we love to enjoy is our marvel- lous floor projector. This allows residents to engage by seeing results from interactions they have whilst playing . The projector has several games which involve colouring or painting, touch and movement. It truly is an amazing tool for our residents to enjoy.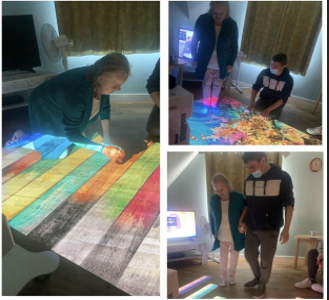 Highlights from the homes
We've had an incredibly busy month, which has very much been themed around the time of year! Decorating for Halloween has been a huge focus, along with some very special visitors.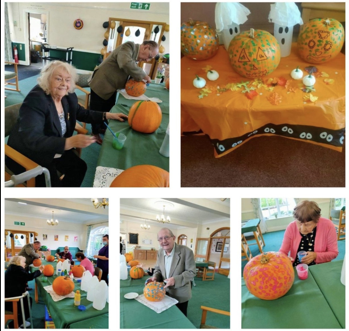 Randolph House had a lovely pumpkin painting competition this month, the results of which were displayed for all to see as part of their Halloween decoration table!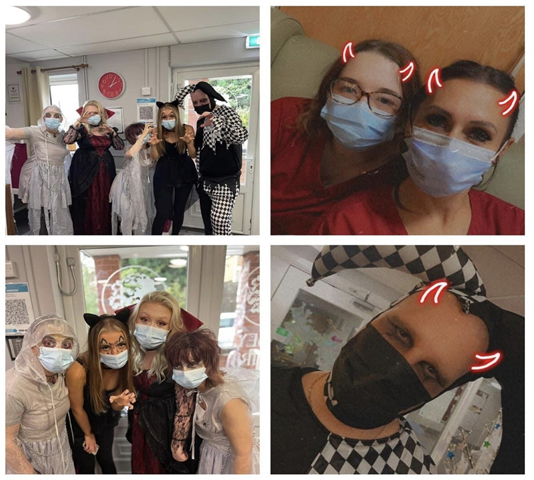 Our lovely teams at Abbey Court got well and truly into the spirit of things with their amazing Halloween costumes! We had a wonderful spooky day!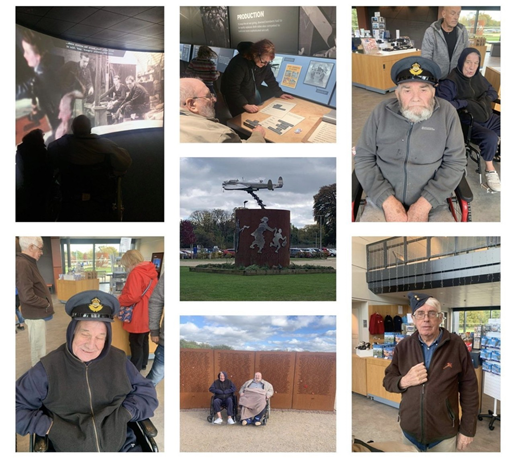 Our Drovers Call team enjoyed a rather wonderful trip out to a loocal air museum this month! Our resident Michael used to be in the RAF and we all had so much fun learning about all of the planes as well as trying on a few RAF berets!
Halloween decorations
Our Halloween decorations have been exceptional this year, with every home getting right into the spirit! You've seen Randolph House's pumpkin painting in the highlights from the homes section of our newsletter, but check out our other homes below, for more spooky decor!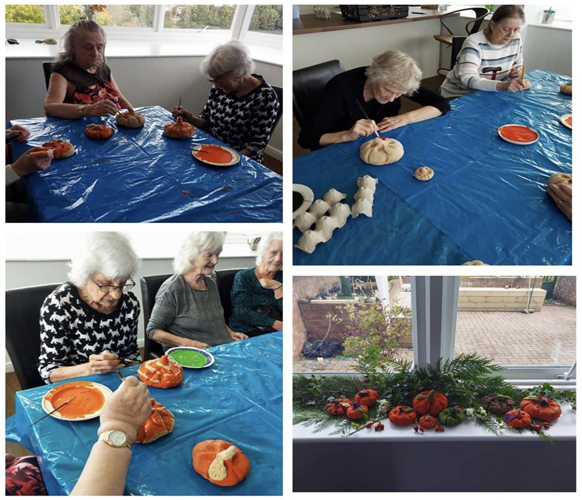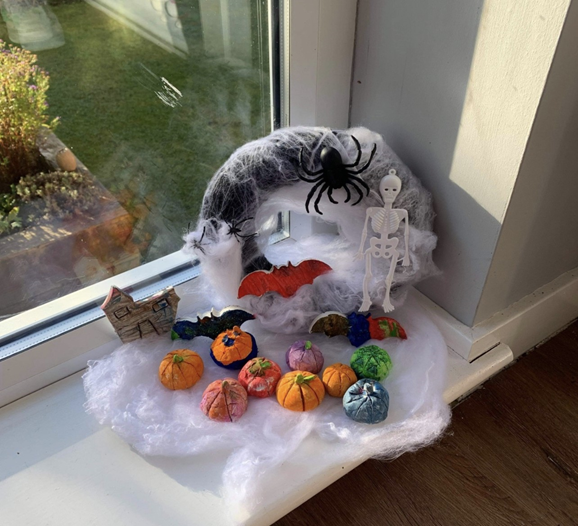 We truly got into the spirit of things! In addition to all of the Halloween decor, we've been baking cakes and throwing parties galore! It's been a brilliant month!
Seasonal produce & yummy Autumn food!
It's key for our homes to reduce their carbon footprint as much as possible. In order to do this, we try to use local, seasonal produce. Seasonal produce is often the best option due to the fact that it's just been picked and therefore retains as many fresh nutrients as possible without being frozen or cooked in any way.
We'll always opt for the most nutritional, low carbon emission option for our residents! Get in touch to find out more about how we ensure our residents enjoy the best food!
November Awareness Days
November is a busy month when it comes to awareness days. We work hard to raise awareness via social media and often, within our homes, we'll have celebrations or events to raise awareness and support charities which are close to our hearts.
This month is a lovely mix of awareness days dedicated to lots of different special events and charities!
From the Veg pledge, which runs throughout the entire month and challenges people to eat 5 portions of healthy fruit and veg every day, through to International Mens day on the 19th.
International Mens day is associated with Movember and campaigns for better health for men and boys. The day also highlights the positive value men bring to the world, their families and communities.  Lots to celebrate!
Follow us on Instagram, Facebook and Twitter to see us raising awareness!
November Focus
This month, we'll be (dare we say it…) preparing for the run up to Christmas in all of our homes. We'll be enjoying the last month of Autumn with more cosy movie nights, crisp walks in our gardens and lots of arts and crafts focused around the last of the falling Autumn leaves.
We'll begin preparation for Christmas by creating the Christmas pudding mix, stirring and feeding it every week. The Knights family recipe will be used and residents love to get involved by giving the pudding a stir and making a wish!
Christmas decorations will be going up toward the end of the month and we'll be adorning entrance doors and hallways with beautiful handmade wreaths, which will compliment our many Christmas trees perfectly.
As November also plays host to national spa week from the 4th to the 9th, we'll be getting our glam on with some very special pamper sessions. From foot baths and manicures to visiting hairdressers and beautiful make up, our residents will be so excited to be beautified!
Of course, if there are any activities that your loved one particularly enjoys, please let your home manager or us know via social media. Our goal is to ensure that each resident has a chance to enjoy their favourite activities and we'll always make an effort to ensure that whatever they love to do is included within the weekly activities schedule, if possible!
Head over to our social media channels to find out more about what we're up to this November, what activities we're taking part in and also all of our awareness days and support initiatives! We are on Insta- gram (@Knights_Care) Facebook and Twitter (@KnightsCare1)